Meet the Owners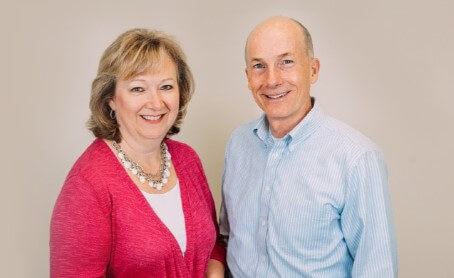 John and Debbie Kipps
People Persons, Parents, Church-Goers
"Giving back to our community is what drives us."
---
John's Story
My roots are in Northern Virginia, having been born and raised with five siblings in Arlington. Now, many years later, I am happily married and my wife, Debbie and I have raised three sons living in Vienna. I've seen firsthand the benefits that come when someone who is living with an illness or simply growing older is able to remain in their own home. In my family, my mother's life was greatly enhanced by the ability to continue living in the familiarity and comfortable surroundings of her home through the assistance of caregivers after she was diagnosed with Parkinson's disease. It's that sort of benefit that I'm most excited to offer to others in the community each day.
My passion for addressing the needs of others began in college at the University of Virginia, where I majored in Marketing. I'd been in the corporate world for a long time, managing the products and services of various Fortune 500 companies, when the last company I worked for was acquired and my position transitioned out of the area. Rather than leave Northern Virginia, I decided it was time for a career change. Debbie and I decided to start a business that would enable us to lovingly touch the lives of others in our community. Home care was a natural fit as it offered the opportunity to partner with families who were seeking assistance in caring for their aging mom or dad. And, what a privilege it has been to ultimately offer such families the peace of mind that their loved ones are being well cared for and shown dignity and respect in the sunset of their lives.
---
Debbie's Story
I've always felt very strongly about the value of other people's lives and treating all people with dignity from the beginning of their lives to the very end. That's what makes working in home care so fulfilling to me. It allows me to put into practice my firm conviction that all persons are deserving of dignity, in all stages of their life. And, the fact that I'm able to do this in my own community makes it even better.
My husband and I both have long history in the business world, but with the change in John's position, we were able to take a step back and ask, "Where do we want to go next?" It was so important to the both of us that, whatever we decided, it would give us a chance to give back to our community. We're both people persons, and we bring a sense of warmth and family to everything we do. Therefore home care was a natural fit for us, and we're blessed to have a chance to provide such a meaningful service to so many people.
---
Our ComForCare
Our belief is that you're always more successful doing something with other people than doing it alone, and we're here to help you and your loved ones through this next stage in your life. We are committed to care and to helping you and your loved ones live your best lives possible. That's our mission, our core belief, and our calling.
John's Credentials
Bachelor's in Commerce from University of Virginia – McIntire School of Commerce
Master of Business Administration from University of Michigan – Ross School of Business
Board Member, Oakseed Ministries International
Board Member, Glencannon Homeowners Association
Debbie's Credentials
Bachelor's in History with a concentration in Political Science from Bryan College
Former board member and volunteer, Capitol Hill Pregnancy Center
Former Member, Madison High School Parent-Teacher-Student Association
Board Member, Project Belong VA
We also provide our services in assisted living homes and other senior home facilities.
---
Whether your loved one needs assistance only a few hours a week or around-the-clock, our team is happy to help! Call (703) 870-3711 to learn more about the transition care services offered through ComForCare Home Care (Fairfax, VA).