Home Care: A Profession for the Kind Hearted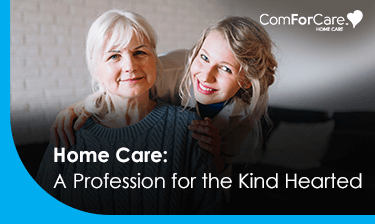 The home-care industry attracts people from all walks of life. Many people are attracted to this profession because of the self-gratifying nature of this job. Learn more on home care here.
Besides the skillset home care companies provide, you must have an altruistic personality that comes from being kind hearted and, of course, be well organized. Caregivers are equipped to help elderly patients with all kinds of tasks. From simply cleaning the house, helping out with medication or rehabilitation efforts, to being the friend they need to talk to.
Here are four reasons why you should choose a career in home care.
4 Reasons for Careers in Home Care
Home care assistants give support and daily contact, which is vital for seniors, enabling them to live at home with pride and confidence. If you are considering a career in home care, we have provided some reasons to join below:
Flourishing Industry - Home Care
If you are looking for a new opening or just a change in scenery, Home Health Care is an ideal place to be. The demand for home care is only going to get more significant because of the sharp growth of the elderly population.

Additionally, more people are moving loved ones out of facilities and back into apartments or houses. These individuals still require home care but from the comfort of the home. On the flipside, this is beneficial for caregivers because they are only caring for one client rather than many at a time. Enabling special attention to be given to every client and establishing long lasting relationships. Read more here.

Company & Support for the Elderly
The intimacy and synergy a home care professional provides enhances morale for your client, as seniors often feel abandoned and depressed. The elderly are also volatile to high blood pressure because of loneliness.

This is where a home care worker can bond in a significant way with clients, which in turn reduces their blood pressure, risk of Alzheimer's, and other complications.

The beauty is, both the caregiver and the patient find something personally benefiting from cultivating these important relationships.

Love Supporting People:
Home care is the kind of work that comes with the gratifying sensation of knowing that everything you do improves someone else's life.

Granting that personalized care for their loved one gives the family an improved state of assurance, knowing that someone is assisting their loved one.

This provides the family with time to focus on other things, especially when they fall back on chores or sometimes fall ill themselves.

You Enjoy Working Alone:
If you like a degree of independence, then home care is the way to go. You are offered the chance to improve your skills and develop a more personalized approach with all your patients. This situation can be informative while still having access to your team's input on any cases you need a look-in with. You can take a be-your-own-boss mentality while still providing support through frequent nurses visits, flexible scheduling, and PPE provisions.
ComForCare Fairfield home care helps people live their healthiest lives possible. Its aging adult care services in Fairfield, New Jersey, also cater to Montclair, Bloomfield, Belleville, Caldwell, and Verona. At the same time, our compassionate caregivers and innovative programs support the elderly and special needs patients.
Why work with us?
ComForCare holds awards such as the 2021 Best Workplaces for Millennials, Best Workplaces in Aging Services lists, Best Workplaces for Women, and more.
A career in home care entails:
Flexibility in schedules
Paid training opportunities
Feel more connected to your client
So, if you are looking for a career in caregiving, don't think twice now. Click here to connect with us and be part of a team that makes a difference in people's lives forever!
Whether your loved one needs assistance only a few hours a week or around-the-clock, our team is happy to help! Call (973) 244-9400 to learn more about the transition care services offered through ComForCare Home Care (Fairfield, NJ).