Dementia Home Care Services Near Downer's Grove, IL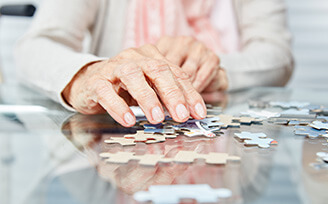 Many families in the Downers Grove, IL area have a loved one living with Alzheimer's disease and other forms of dementia. However, family members aren't always equipped with the right tools making caring for their loved one easier nor do they have the bandwidth that often comes with the one-on-one care needed and is vital for successfully aging-in-place at home.
At ComForCare, we provide specialized in-home care services that are designed to improve our clients' quality of life by helping them live their best life possible. Our quality caregivers are trained in our proprietary dementia care training program DementiaWise™ which is recognized by the Alzheimer's Association and is supported by a Duke University Occupational Therapy Division evaluation study which found home care workers who completed the DementiaWise® training felt better equipped and empowered to collaboratively care for clients living with dementia and their families. DementiaWise is a philosophy of care that brings meaning and purpose through specialized activities and precautionary measures. ComForCare emphasizes the importance of meaningful activities as a means to drive passion, happiness, independence and fulfillment for clients.
Because dementia is a progressive disease, affecting each individual differently, living at home is best and even an extension of six to 12 months at home can benefit people with dementia and their families. ComForCare understands the disease's progression and caters plans to clients' current needs to help them live at home as long as possible. We optimize an individual's remaining abilities and focus on meaningful connections and beneficial activities that help enhance the quality of life.
We approach caring for individuals living with dementia with compassion and attention to detail for family members' peace of mind. You're in good hands when you entrust our caregivers with in-home services. Take the first step and contact us to learn more about what we offer clients in need of additional support.
What to Expect From In-Home Care Services
Alzheimer's disease is a serious condition that impairs memory and requires the assistance of a trained professional. Not all facilities offer the same level of care, but at ComForCare, our caregivers are trained to do a quality job. Instead of going to an assisted living facility, our staff comes to you since many individuals would rather stay in a place they already know and feel comfortable being in. We take a personalized approach because we understand that Alzheimer's affects everyone differently. It can be incredibly disruptive to someone's life, so we make sure to bridge the gap where they may not be able to do things on their own.
You can count on our caregivers to provide dementia home care services focused on personal care and safety. We can provide assistance with routine tasks such as hygiene, meal prep, transportation, and more. Although those who have dementia might find tasks more difficult than before, they can still have some independence with the help of our skilled and dependable staff. Expect the best from the team at ComForCare who are dedicated to putting the needs of clients and their families before anything else.
The Benefits of Dementia Home Care Services
When you get home care services for older adults living with dementia, it offers many great advantages for you and them. For families, it offers a much-needed respite or even a long-term solution. In-home care is the ultimate senior living assistance because it is typically the most convenient option for all family members involved. Aging-in-place is what many seniors prefer and we help make that reality even for people who have a variety of conditions, including those with memory loss. We even take the time to evaluate the home and offer helpful suggestions that might make it a safer and more comfortable environment to live in. For example, we might recommend installing grab bars in strategic areas, ramps, and using mobility aids to more easily get around the house. Whatever your situation may be, we will develop a personalized care plan that works for you.
These are some of the benefits you can expect from our Alzheimer's home care services:
24/7 dementia in-home care
Flexible and personalized care plan
DementiaWise™ trained caregivers
Companionship
Assistance with day-to-day activities
What Makes Alzheimer's Care Different?
Alzheimer's care is for individuals who require a specially trained aide who can adjust their approach through the varying stages of the condition. Those living with Alzheimer's not only have greater memory loss, but experience challenges like completing routine tasks, remembering to turn off a gas burner, handling money and may begin to repeat questions. If specialized memory care isn't provided by a highly trained aide, then an individual with dementia may become more agitated and create some challenging situations in the home. Our caregivers keep clients happy, engaged, and doing their best considering the level stages of dementia they may be in.
Our clients living with dementia often need encouragement and support to do their day-to-day tasks and are encouraged to continue to complete them with safe standby assistance. As needs change, we will modify the task so the individual can still complete it given their remaining abilities –which helps promote self-esteem and confidence.
By having our caregivers provide your loved one companionship, you are giving them meaningful interactions that improve their quality of life. With a DementiaWise™ trained caregiver from ComForCare, you get services that are supervised for quality and ensure that clients living at home are thriving and more accepting of services. Our staff members each go through a competitive 10-step hiring process before being on-boarded to our team. As an elite source of professionals, you can expect to get one-on-one care that's specialized for individuals living with dementia. You can have the much needed peace of mind that your loved one is in good hands when you hire us for personal care services in Downers Grove.
Home Care Services for Alzheimer's Patients
Family members with dementia often need more support as symptoms get progressively worse. A dedicated caregiver is a great way to meet their needs and provide them with the companionship that's so important for people to live a happy life. ComForCare has quality caregivers on staff around the clock who can provide the necessary support to meet the needs of your schedule. With our certification and training, we're able to create a safe place for your loved one to live and get their daily activities taken care of.
Since we offer dementia home care services, we will assist your family member with washing, dressing, medication reminders, toileting, and more. Our staff is available to provide 24/7 care when you need it most and we provide a comprehensive list of services that helps clients live the best life possible. Alzheimer's disease requires additional support and attention and we're the professionals you can trust to do just that. Better yet, your loved one will be in an environment that's already familiar to them—their own home! This could also mean that family and friends are still nearby and can more easily come over to visit.
Schedule an In-Home Care Consultation Now
If in-home personal care is the next step you're considering for your aging family member, then turn to ComForCare for dedicated assistance from a professional caregiver. Whether it's an elderly parent or another senior in your family, we believe in the importance of giving you and them a good experience while under our care. This is especially important so when your loved one is at home with dementia our DementiaWise™ services provide specialized assistance to clients facing challenges oftentimes associated with this condition. You're in good hands when you hire us because we are dedicated to providing services that meet the highest standards of quality.
As their family member, we will work with you to come up with a set schedule, whether you need us there for the short-term or around the clock on a long-term basis. We will put together a strategic and personalized care plan that will take into account the severity of their condition and the level of care required. Give us a call at (630)536-8501 to schedule a consultation with a caregiver near Downers Grove, IL
Whether your loved one needs assistance only a few hours a week or around-the-clock, our team is happy to help! Call (630) 536-8501 to learn more about the transition care services offered through ComForCare Home Care (Naperville-Downers-Grove, IL).