Dementia Home Care Services Near Naperville, IL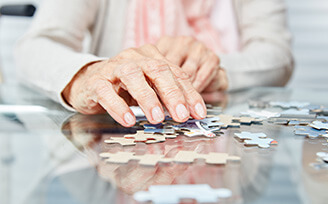 Several families in the Naperville, IL, area have loved ones suffering from different forms of dementia including Alzheimer's. But many of these families don't have the necessary resources to provide the one-on-one care these patients need on a daily basis.
At ComForCare, our DementiaWise™-certified staff provides 24/7, around-the-clock assistance to patients going through memory loss issues. Due to the nature of this illness, long-term patients may respond better to treatment in a familiar setting. So, having in-home care options is a wonderful solution when dealing with cognitive impairments. When it comes to dementia, having a personalized care plan that suits the needs of the patient's routines, familiarities, and family, is a goal we strive to achieve with every encounter.
Dementia home care services specialize in providing the level of care required for individuals suffering from mental dysfunctions. Dementia can affect people differently, from loss of memory and thinking ability to their rate of decline that interferes with daily life. Recruiting caregivers to keep family members safe and provide companionship is something ComForCare takes great pride in. No matter the stage in life our loved ones are in, maintaining a balance between happiness and safety is our main priority for you and your family.
What to Expect From In-Home Dementia Care Services
Dementia is a serious disease that affects the mind along with physical attributes of the person experiencing this condition. Speech, mobility, thought expression, and familiarity are all areas patients may need assistance with. Home care services can alleviate some of the stress of the recipient by bridging the gap of the care they need and the level of care provided by they typically receive. Utilizing trained professionals can help mitigate time restraints the family may face while balancing appointments or routine care. Depend on our quality caregivers to take care of it all and provide your family with the support you need as well. Certified caregivers are able to monitor a patient in a place they feel comfortable, safe, and are familiar with.
Relying on our caregivers to provide dementia home care services is something you as a family can count on. We can be scheduled to provide supplemental aid when you need it most, whether it's to get help with light housekeeping, safety supervision, or medication reminders. We can assist patients with all the tasks they find difficult to do on their own, so they can experience a bit more independence in their lifestyle. Our mission is to provide compassionate care that empowers patients to live a better quality of life.
The Benefits of In-Home Dementia Care Services
When we're hired to provide home care services to elderly family members with dementia, a special kind of attention is given due to the nature of the illness. For families, it offers a much needed respite or even a long-term care solution that will give them peace of mind. In-home care is a great senior living alternative since it offers the best care to dementia patients in the comfort of their own home where they can be near their family. Our mission is to help these individuals with everyday tasks like meal preparation, hygiene, transportation, and more. Many everyday instances become difficult to manage without day to day help. With our caregivers by their side, we're able to stimulate the mind of our patients and keep them alert as we assist them with various activities.
These are a few benefits of working with ComForCare for dementia home care services:
Flexible and personalized care plan
DementiaWise™-certified caregivers
Companionship
Assistance with day-to-day activities
24/7 Dementia Care
What Makes Dementia Care Different?
Seniors experiencing the symptoms of dementia can have cognitive difficulties that require specialized care, especially in the advanced stages of the disease in order for individuals to live their daily lives. Attentive and familiar routines are an effective measure taken to help loved ones with maintaining a positive outlook during these times.
Alzheimer's is a serious illness which can impair memory, recognition, physical abilities, and speech. This type of care takes a unique skill set and training to know how to provide the right kind of care. Aging in place is what many seniors prefer and we make that vision a reality even for people who suffer from mental illnesses resulting in memory dysfunctions.
Our dementia patients frequently need affirmations and supportive individuals to complete their day to day tasks. We help families look after their loved ones and bridge the gap of care to help them retain some of their independence, which is of huge importance when dealing with cognitive impairments. Having a caregiver creates a positive environment and companionship that provides meaningful interactions for an improved quality of life.
Home Care Services for Alzheimer's Patients
Elderly family members with dementia often need more support as symptoms progressively increase over time. A devoted caregiver is a fantastic way to incorporate their needs and provide them with relationships that are crucial for individuals to maintain a quality living environment. ComForCare has qualified professionals on staff and around the clock who can provide the support your family needs. With our certification and knowledge, we're able to create a safe place for your loved one to spend time and partake in their daily rituals.
While offering Dementia home care services, our staff will aid your loved ones with bathing, clothing, medication alerts, toileting, and more. On hand staff can provide 24/7 monitoring where you need it most and produce a comprehensive list of amenities that help patients live the best life possible. Dementia and Alzheimer's diseases require supplemental support plus attentive, responsible caregivers you can trust. With your loved ones in an environment that's already familiar, like their home, they have the ability to be visited by family as much as desired.
Schedule an In-Home Care Consultation Now
If in-home personal care is a promising step you're contemplating for an aging family member, then look to ComForCare for a devoted hand from a professional caregiver. No matter if it's an elderly parent or another senior in your household, we understand the importance of giving everyone involved a wonderful experience while under our supervision. This comes directly into play when your loved one suffers from memory loss and is experiencing progressive symptoms of Alzheimer's or other forms of dementia. The great news is we're certified by DementiaWise™, so providing routinely specialized care to clients helps with overcoming these mental or physical challenges. Placing loved one's in our supervision will ensure you're in good hands due to our dedication to providing the highest standards of quality.
When working with family members, we collaborate to create a complete schedule used for a short-term or a 24/7 care plan with around the clock monitoring on a long-term basis. We help you design a strategically personalized itinerary for you and your loved one to address the level of care required. Give us a call at (630) 536-8501 to schedule a consultation with our professional staff near Naperville, IL.
Whether your loved one needs assistance only a few hours a week or around-the-clock, our team is happy to help! Call (630) 536-8501 to learn more about the transition care services offered through ComForCare Home Care (Naperville-Downers-Grove, IL).