A Dedicated Father/Daughter Team That Knows Firsthand the Importance of Quality In-Home Care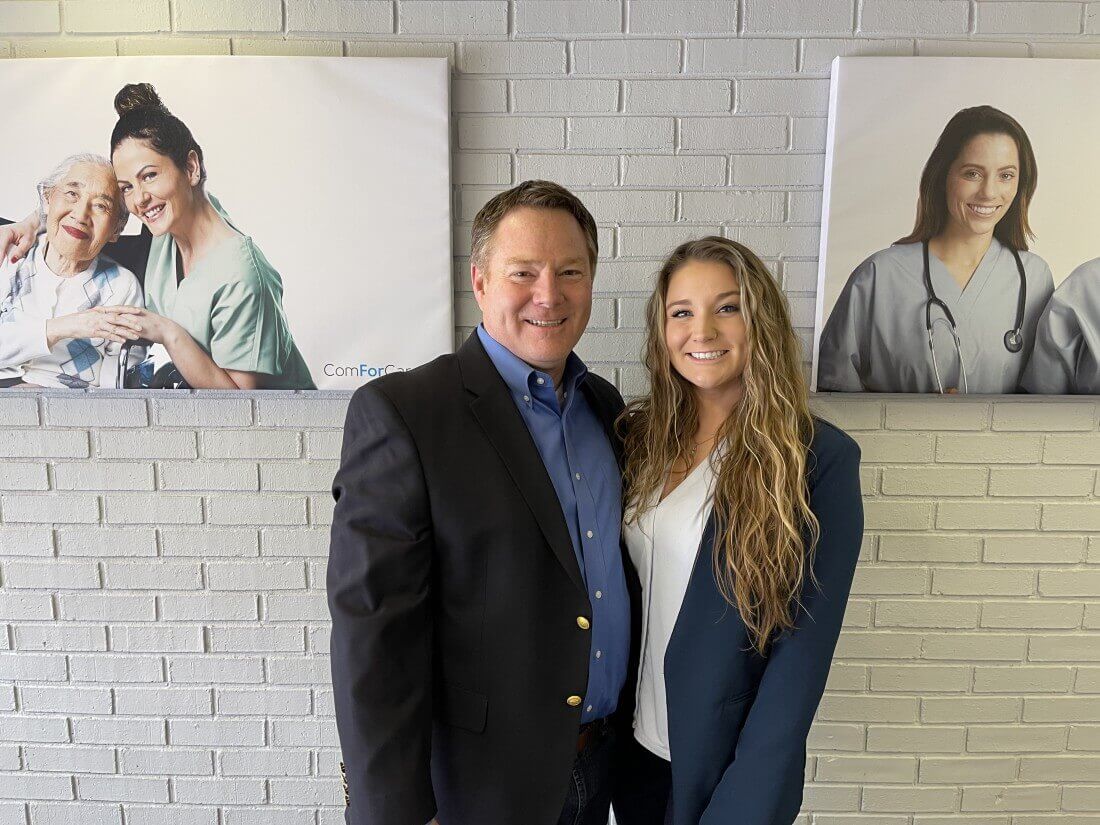 When it comes to father/daughter duos, Samantha (Sam) and Dale know what it means to give back to their community. It all started when Sam was in school for healthcare administration. When her education took her down a path toward geriatric care and visiting nursing homes, she was instantly hooked. And, when her Dad suggested they open a ComForCare franchise together, Sam was all in.
---
Are You a Caregiver Looking to Join a Team That Cares About their Staff as Much as Their Clients
ComForCare (Naperville-Downers-Grove, IL) is seeking talented and passionate caregiving professionals to join our family-oriented team. If you are looking to make real differences in people's lives while taking your career to the next level, contact us today.
---
Samantha Carpenter - Family-First, Traveler, Mom - Owner
Bachelor's degree in public health, health administration from Northern Illinois University in Dekalb, IL
Internship at Kindred Hospital, transitional care hospital, in Sycamore, IL
"I've always gravitated toward helping others. It's just part of who I am to want to take the stress away from people."
Since I was a child, there has always been a calling for me to help people in any way I could; friends, family, and anyone in need. Growing up, I was still the person people went to for advice or help. No questions asked, I always did anything I could in any way possible to help.
I worked closely with the public at an accounting firm where my mother was a CPA. Once she took over the business, I assisted her in all aspects. I enjoyed the clients we worked with tremendously. A lot of individuals reach out to us stressed and confused. I had the privilege of calming them down and assuring them they are in good hands.
Going to college at Northern Illinois University, I knew I wanted to be involved in Health Care. With previous knowledge of business, I decided to get my B.S. in Public Health with an emphasis on Health Administration.
Soon after receiving my degree, I was blessed with a beautiful daughter, Madelynn. I continued working at the accountant firm while raising my Daughter. Once she turned two, I knew it was time to transition into my field.
Around this time, my Paternal Grandfather fell and broke his hip. Though he recovered from the fall, other aspects of his health declined rapidly. He was admitted into hospice quickly, and our family flew out to see him and help in any way possible. We hired a caregiver service to assist with his care. It was a frustrating process to find a caregiver that was well-suited for the job. My Grandfather was a Major General & we wanted someone to give him the respect and dignity he so deserved. My Grandfather had one request: "I want someone that won't drop me." After a couple of rough tries, we finally found a fantastic caregiver to assist with his transition to the end of his life. This man was a godsend, and it felt as though a weight had been lifted off our shoulders. There was a special connection with this irreplaceable caregiver. Furthermore, we focused on precious quality time, confident knowing that his needs were fully met.
My Father and I decided to open this business to bring people comfort in stressful times. We know how it feels firsthand to find a good match for a loved one. Most people come to us distraught and desperate for help. We take it personally by caring like family and always treating our clients with respect and dignity. We serve passionately to improve quality of life, level of independence, and to have some fun along the way.
Our vision is to elevate home care services delivery through unique and superior strategies providing improved outcomes and satisfaction for clients, families, and caregivers.
---
Dale Carpenter - Boater, Father - Owner
United States Army – Corp of Engineers, Fort Leonard Wood, Missouri
Master's degree in computer resource management from Webster University in St. Louis, MS
Bachelor's degree in computer science from Clarion University in Clarion, PA
My foundation is rooted in Family Values that stem from my Farming, Military, Flight, and Faith heritage. Both of my parents were raised on farms. The men in my family served in the Army, Airforce, and Navy with two Daughters of the American Revolution. One Grandfather took care of the horses in the calvary. My Father retired as the oldest officer at that time on active duty as a Major General advising the President on all our reserve forces' capabilities from the Pentagon. As one might imagine, there was plenty of prayers for crops, safety for our troops, and anyone that needed help healing or finding their way. More than anything, as we moved around the country, my siblings and I were raised to know that we always had each other, the family was just a phone call away, and if someone needed help, you show up.
I served in the Army as Combat Engineer Officer, attended Airborne School at Fort Benning, GA, and stationed at Ft. Leonard Wood, MO. After four years as a Captain with a degree in Computer Science and a master's in computer resource management to pursue a civilian career, I left the military with Airborne Express, working on what used to be a military base. I got my pilots' license spending a few hours a day flying in the morning after working the night shift. Throughout my career in Supply Chain, I fathered two daughters and raised or became stepfather to a total of 8 children.
Children keep you young, and as I learned later in life can also have you scratching your head saying, "what was I thinking?". I tried to give my children all the experiences I had and support them to explore their passions, taking me to the renaissance festival, anime, country thunder, sporting events, fish fries, and family time. We are an active family, and one of our favorite events is Friendsgiving. Holidays are tough to get everyone together any more, so we have an open house policy, all are welcome and often move celebrations to meet our children's schedules. I grew up that way and want to know my children, their friends, their challenges, and their celebrations.
I worked in almost every aspect of the Supply Chain. I know what it's like to start at the bottom and rise to the top, and start over again. I've worked for several awesome companies from start-ups to the fortune 500 and had offices coast to coast. The accomplishments I am most proud of are the relationships I've maintained with Family, Friends, and Co-workers. After I graduated from college, I never lived in the same state and my siblings or parents, but we talked daily and always connected on the holidays. As fate would have it, I was in transition looking for my next career move when I got the call my Father broke a hip. I immediately went to his side. I couldn't have known that he would pass just two months later. It was this experience that lead me to open a home healthcare franchise.
I reflected on my youth, having faith-based conversations with my Grandmother when she came home with hospice care. I reflected on the years my wife spent caring for her mother, who had become wheelchair-bound following a stroke, and how she made it her mission in life to make sure she continued to live life to the fullest. As time went on and her body failed, I was there doing anything I could to bring her comfort with dignity and respect. She didn't have much money, but we made it stretch, and she passed with her wished being honored and us by her side. So, I knew a little bit about what my Father would be going through when he was told he was terminally ill and only had a few weeks or months left.
My Father, unlike my Mother-in-law, had invested in a long-term healthcare plan. So, I got a crash course in what that provided and exactly how it worked. I was there with my Mom reading through what they had, and was given power of attorney to help her make numerous decisions. After several frustrating experiences, transitions in caregivers, and heart to hearts with my Dad to understand what was important to him, we settled on caregivers he felt comfortable with and could trust.
However, the plan was not sufficient to provide what he would need 24x7, so I stayed, and together my Mom and my siblings cared for him to the end. I recall one of the most challenging things was working with the agency to find the right caregivers. They needed to not only fit in with the family dynamic but, more importantly, connect with my Father. It was humbling for him to become so vulnerable, and more than anything, he wanted to know the caregiver wouldn't let him fall. It was a time I got to know my Father in a different light, making sure we understood his wishes and, over time, say goodbye. While changing his briefs, I especially remember he asked if I ever imagined having to do such a thing. The only response I had for him was that it was my honor for all he had done for his family, community, and country. With all he had accomplished in his life, it was rewarding to know him at his most venerable time and be able to comfort him with dignity. Another such moment while holding his hand sitting by his bedside, I could tell he was concentrating. He would occasionally squeeze my hand and look me right in the eyes. So, I asked what he was thinking about. He said he didn't want to make a big fuss. I asked him if he thought he was making a big fuss? He said, "no, but I don't want to." He was more worried about us and not causing us any more stress than he knew we were under. He was still teaching us and preparing us for what he knew was about to happen in his passing.
Everyone came to say their goodbyes. Samantha came with her newborn, and my Dad got to hold his Granddaughter. With her degree in Hospital Administration and a close friend that worked in hospice, Samantha already knew where to jump in where needed. She helped care for him while there and experienced firsthand things that would shape her development and career decisions. My other Daughter Katrina was graduating with a Doctorate in Physical Therapy. Although we were unable to be there, we watched her walk across the stage virtually. It was a milestone that my Father was looking forward to. The next day he passed with his wife and children by his side.
The days and weeks that followed were hard, but he made it as easy as he could for the rest of us with a file that said, "Read upon my passing." Yep, step by step instructions for everything from who to call, phone numbers, email addresses, accounts numbers, and full narrative as his final words to my Mom assuring her he had planned for this day and she would be ok.
So, you probably know why, in my next career transition, I bought a ComForCare Franchise. My Daughter feels so blessed to be able to share with others what we experienced. Not everyone is fortunate enough to be there for their loved ones the way we were. Our mission is to share our experience and surround ourselves with Caregivers that share our passion for helping our clients live their best lives through whatever challenges they may face with confidence and dignity. We felt especially compelled to be DementiaWise certified so we could bring relief to the families struggling to understand what it's like to support their loved ones with this illness. My Daughter Samantha runs the day-to-day operations while I make sure she has all the resources she needs to succeed. I look forward to joining her day-to-day, following my next and final transition.

"Our dedication to the community is unstoppable. At our core, we're going to make people more comfortable and have better days in the comfort of their own home."
In Summary, with a strong foundation in faith, family, and community, I have learned that when someone is in need, regardless of their means or journey, deserves to live their best life possible. I have also grown to appreciate that not all are blessed with providing for their loved ones. When the opportunity presented itself to buy the ComForCare Franchise and learned that their mission and values aligned with ours, we were all in.
---
Our Caregivers
We search for professional, dependable, compassionate, patient caregivers that can connect with our clients on their terms. All caregivers are screened, trained, and checked for competency to ensure they are a good fit. We take time to get to know them like family; creating a profile of their strengths and preferences to match them with clients who will most appreciate and benefit from their support and availability.
Whether your loved one needs assistance only a few hours a week or around-the-clock, our team is happy to help! Call (630) 536-8501 to learn more about the transition care services offered through ComForCare Home Care (Naperville-Downers-Grove, IL).