Senior Personal Care In Central DuPage
---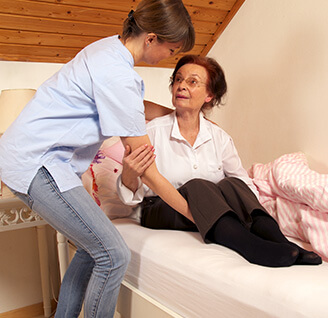 ComForCare provides senior personal care services to seniors living in the Wheaton, Elmhurst, and Glen Ellyn areas of Illinois. Because most people prefer to stay at home in a comfortable, familiar environment rather than enter assisted living or other senior care facilities, personal care services are in demand. Our clients' families have greater peace of mind knowing that their loved one is receiving top-notch care services at home.
---
Daily Senior Personal Care
One of the main benefits to our clients is daily personal care. ComForCare senior personal care services range from simple, routine tasks to more involved and specialized services.
We can help our patients with:
Grooming and hygiene
Toileting, and bathing
Choosing clothing and dressing
Supervision of safety
Exercise and mobility
Taking walks
Light housekeeping and laundry
Making beds and changing linens
For patients with chronic medical conditions or a need for specialized personal care, our services may be more extensive. In any case, our goal remains the same for all patients: providing quality senior personal care to maintain patient health, comfort, and happiness.
---
Incontinence Care
Incontinence care can become an important aspect of a senior personal care plan. This may be especially important for elderly patients in more advanced stages of Alzheimer's disease and dementia. Incontinence may also be caused by a number of other health conditions, such as diabetes and stroke.
Many persons in need of incontinence care may feel embarrassed or ashamed. We understand that there are special physical and emotional considerations when managing an incontinence care plan. Our staff members are caring, sensitive, and knowledgeable in incontinence care procedures. This means that patients can receive needed personal care without added stress or embarrassment.
---
Companionship
Seniors who live alone will naturally experience less social interaction than those who live with others or in a care facility and often feel isolated. ComForCare offers companionship services to elderly patients. We understand that companionship and personal relationships are not only important for patient happiness, but provide important human contact. Companionship plays a key role in maintaining certain aspects of a senior's mental health, such as preserving communication skills and stimulating cognitive abilities. There is a big difference between a caregiver and a caregiving companion, and ComForCare aims to bridge that gap.
---
Dementia Care
The Central DuPage ComForCare branch serving areas in Wheaton, Elmhurst, and Glen Ellyn has earned DementiaWise program certification. DementiaWise is a special program developed by ComForCare and approved by the Alzheimers Association that provides extensive caregiver training for dementia patients. The program includes a rigorous training course designed to focus on best practices for in-home senior personal care of patients with dementia. Patients and their loved ones can rest assured that our caregivers are experts in dementia care.
Whether your loved one needs assistance only a few hours a week or around-the-clock, our team is happy to help! Call (630) 517-8423 to learn more about the transition care services offered through ComForCare Home Care (Central DuPage, IL).