ComForCare Central DuPage is a DementiaWise® certified
---
Our professional program is endorsed by the Alzheimers Association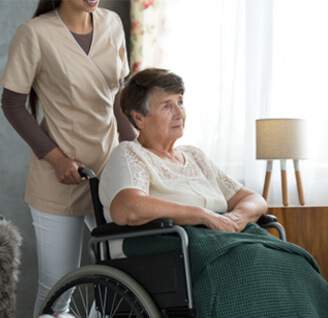 DementiaWise® is the proprietary dementia care curriculum for ComForCare. It has been reviewed and approved by the Alzheimer's Association® because it meets the Alzheimer's Association Dementia Care Practice Recommendations.See report results.
The Central DuPage office is a DementiaWise®-certified office, which means we have met the corporate high standards for dementia education and caregiving excellence. The DementiaWise® program teaches a person-centered approach to care that uses behavioral interventions to help people with dementia continue to live at home, where they are most comfortable and content.
The DementiaWise® program emphasizes compassionate, practical strategies to support persons at all stages of dementia. Our caregivers learn to use industry best techniques and practices that are shown to work with challenging dementia behaviors. All of our caregivers are DementiaWise® certified. They receive continual training to ensure they are staying up to date on new information and developments.
---
DementiaWise® Home Care
Our specially trained caregivers are available to offer assistance with:
Safety supervision
Bathing, grooming and dressing
Incontinence care
Medication reminders
Meal preparation
Cognitive and sensory stimulation
Daily routines
Maximizing independence
Meaningful Activities
Transportation and help running errands
Games, activities, and discussions for cognitive stimulation
Social interaction and companionship
Oversight of safety and well-being around the home
Assistance with light housekeeping and maintenance chores
Meaningful Activities
Meaningful Activities are customized based on each client's interests, hobbies, skills, and abilities.
These activities can include word and board games, community outings, art, music, and stimulation through the senses.
---
Dementia Care Resources for Families
ComForCare also has a variety of videos and informational resources that can help educate your family on Alzheimer's disease and other forms of dementia. We are here to give you the support you need and the peace of mind you deserve so you and your loved one can have better days together.
The DementiaWise® program is why ComForCare is a leader in home care services for people with dementia. Call us anytime to learn more about our professional dementia care services through ComForCare Central DuPage.
---
Whether your loved one needs assistance only a few hours a week or around-the-clock, our team is happy to help! Call (630) 517-8423 to learn more about the transition care services offered through ComForCare Home Care (Central DuPage, IL).