Testimonials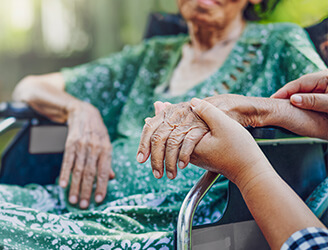 Whether it's due to injury, illness, or aging, sometimes older adults need a little extra help, especially at home. At ComForCare (Boise, ID), we know that family members and friends can't always be available to assist an aging loved one. That's why we provide in-home care services to individuals in Boise, Idaho, and the surrounding areas.
Our home care services are available for as little as a few hours a week and up to 24 hours a day, seven days a week, including holidays. ComForCare provides more than highly qualified caregivers. Our caregivers are always willing to go above and beyond for our clients. Take a look at what our clients and caregivers have said about their experience with ComForCare Boise.
---
James M.
"The staff has always been really nice and caring. The people they have sent have been kind and compassionate as well."
- client
---
Nicole B.
"I love the people, clients and way management works. Everyone is accommodating with scheduling and so friendly. It is a great environment and I hope to myself to be reliable with work schedule."
- caregiver
---
Sharon B.
"I love the flexibility for myself, but I also love the concern and care for the clients. I hope that I make a difference for them as well."
- caregiver
---
Trisha B.
"They care about what is going on with me and how they can help me if needed. "
- caregiver
---
LaReece S.
"Please give my thanks and praise for a job well done to Jennifer Macias. She is an amazing caregiver and caretaker of our apartment."
- client
---
Lori D.
"JoAnna is so awesome. She really treats [us] like family, with lots of love."
- client
---
Alexzander A.
"I like the simple scheduling and the support from Sandra."
- caregiver
---
Karen R.
"The people I work with are all caring and have compassion and experience in their field. Office staff is extremely knowledgeable and helpful. They go the EXTRA MILE to help us provide the best care possible for our clients..."
- caregiver
---
Elaine W.
"Kendra and Julie have been such wonderful, kind companions for my mother. Mom has enjoyed getting to know them."
- client
---
Melanie C.
"I love to work for Wendy & Steve because most of all they care for their caregivers and really listen to staff to provide the best of care for their clients. They have gone above and beyond to care for clients and their families."
- caregiver
---
Joseph G.
"Working for ComForCare is the best. They not only care for the clients, they care for the caregivers."
- caregiver
---
Kay S.
"JoAnna has been so wonderful and caring with my mother. [It takes] sincerity and compassion to work well with her. It takes a special personality to listen and follow through with all they have to put up with. Thank you for recommending her. She's the best!"
- client
---
Adria N.
"The people that I have met so far, I enjoy working with. Everyone is so nice!"
- caregiver
---
Karen R.
"The office staff are the greatest. They always try to accommodate you and the client's needs as well as making sure you get paid properly for Holiday and overtime hours. They run a tight ship as one would expect and yet they really care about their caregivers."
- caregiver
---
April G.
"The staff is very friendly and very understanding."
- client
---
Treana H.
"They are family and go out of their way to work around your schedule."
- caregiver
---
Doris K.
"Treana is very considerate and helpful for [my] needs: bathing, shampoo, dressing. She has been very effective in organizing [my] many clothes and shoes. She has a nice personality and it's nice to be with her."
- client
---
Joseph G.
"It is a very good place to work, and they care about their employees."
- caregiver
---
Linda Marr
"I like that the hours and locations of clients work so well for me. The office personnel are easily reached if needed for questions or issues with clients."
- caregiver
---
Elaine Wolf
"I liked the initial interview where we found out about ComForCare Home Care. Steve was informative and helpful. I also really like the caregiver that was matched with my mother. She is kind, caring, and very helpful."
- client
---
Brittany Grace
"The management is amazing. They actually care about their employees. Best place to work!"
- caregiver
---
Anonymous Caregiver
"Sandra does an awesome job on scheduling. If I need a day off for appointments, she works with us. Steve and Wendy are awesome people to work for. They're kind and make us feel important--we're like a well-oiled machine! The best part is I consider Steve, Wendy and Sandra family."
- caregiver
---
Sandra S.
"Wendy and Steve are amazing people they care about clients and caregivers! ComForCare strives to make personality matches and goes above and beyond for everyone!"
- caregiver
---
Margaret M.
"I like the independence yet know I have support when needed."
- caregiver
---
Home Care Services in Boise, Idaho
For more information about our home care agency and home care service offerings in Boise, Idaho, please call 208-297-5016. We look forward to providing quality in-home care to your loved ones!
Whether your loved one needs assistance only a few hours a week or around-the-clock, our team is happy to help! Call (208) 297-5016 to learn more about the transition care services offered through ComForCare Home Care (Boise, ID).