Compassionate Companionship Care Services in Denver West, CO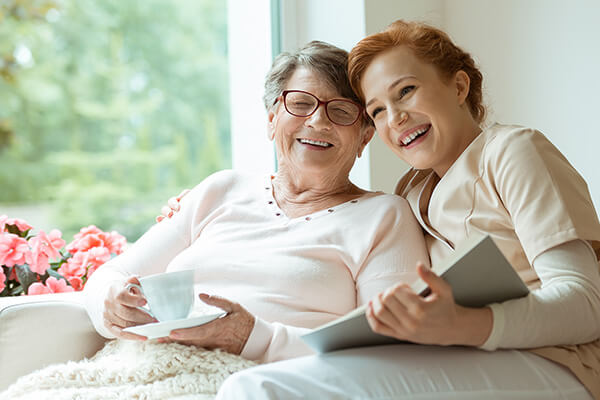 At ComForCare, we believe that everyone deserves a companion to be there when they experience loneliness or isolation, especially our seniors. As mobility decreases with time, it becomes more difficult for the elderly to participate in the activities and social structures they once did.
Everyday life can require adult children to spend less time with their parents. These factors can contribute to mental and emotional health problems that can have severe reverberations.
---
The Balance of Mental, Emotional, and Physical Health
Studies have shown that poor mental and emotional health can reveal itself in physical forms. Depression can contribute to severe illnesses such as high blood pressure, heart disease, weakened immune systems, and cognitive deterioration.
At ComForCare (Denver West, CO), our caregivers have been chosen based on their ability to empathize and make deep, meaningful connections with our clients. We get to understand our clients on a personal level to know what their passions are, what brings them happiness, and what makes them excited about experiencing life. If a senior in your life could benefit from added one-on-one human interaction, don't hesitate to contact us today.
---
Supplemental Hospice Care Services
Feelings of anger, sadness, grief, and hopelessness are normal for families when a loved one enters a hospice care program. Questions of "What's next?" and "What will I do without them?" are common among people facing the on-coming loss of a loved one. You are not in this alone.
At ComForCare, we believe that when a person's life is reaching its final moments, providing them with the emotional care they need helps ease suffering and offers more opportunities for significant conversations and interactions.
We offer supplemental hospice care to assist with personal care and provide emotional support to families and their loved ones. We do not take these moments lightly. Our caregivers understand that giving a hand to hold in times of uncertainty can ensure your loved ones last days do not need to be absent of dignity, caring, or respect.
Our Companionship Caregivers Can Provide:
Scheduling social engagements
Shopping
Reading
Playing games or cards
Meaningful conversation
Meal planning and preparation
Social interaction and companionship
Running errands
Emotional support for clients and families
and much more
Whether your loved one needs assistance only a few hours a week or around-the-clock, our team is happy to help! Call (303) 232-4473 to learn more about the transition care services offered through ComForCare Home Care (Denver West, CO).