Client and Caregiver Satisfaction
---
Between 2016 and 2022, a client satisfaction survey was completed to rate our caregivers on courtesy and compassion, timeliness and reliability, understanding of needs, performance and attentiveness. We are very proud to say 100% of our clients say they would recommend ComForCare to family and friends!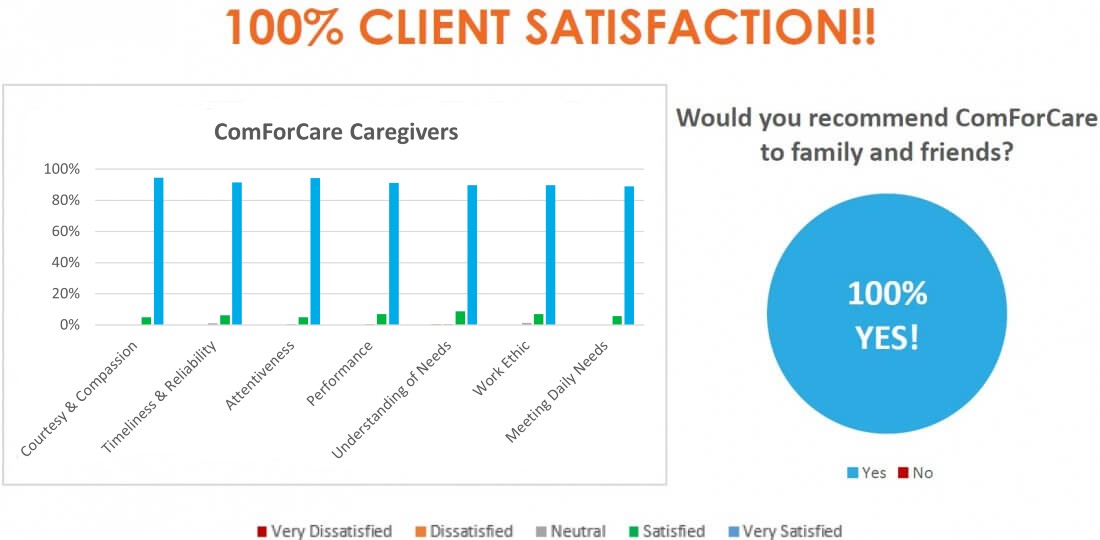 More Kudos from our Clients and Caregivers
"You helped me rebuild my life. Thank you for helping me with the housekeeping services I could not do, and especially for helping me regain a positive outlook. I would absolutely recommend you to anyone. Thank you so much." – Pamela H.
---
"All of the staff at ComForCare Home Care were excellent. The caregiver exceeded my expectations. I would highly recommend their services." – Ellen M.
---
"Cheryl is a treasure. She does everything I ask her to and then does even more. I look forward to seeing her every week. She has a sweet and friendly personality." – DiAnn T.
---
"Very comfortable environment!!! Love the one-on-one conversations with the owner and workers in the office!!! I would recommend this company to all my friends and family looking for caregiver work." – JD, caregiver
---
"Your professionalism and sincere caring were much appreciated by me and my family in my dad's final days. We can't thank you enough!" – Nancy N.
---
"My husband had a total knee replacement surgery and as a busy working woman I was concerned about his after care. ComForCare to the rescue! I was able to go about business knowing he had capable assistance in our home. All the caregivers were kind and courteous. I would use this service again in a heartbeat." – Lynda E.
---
"Thank you for spending time with my mom and thank you for being so sweet and patient. You really blessed our family." – Elena D.
---
"Kailyn's quick assessment of my wife's oncoming stroke and quick notification may have made a difference in my wife's recovery." – Richard P.
---
"I'm not usually an 'All 5' replier, but you all have surpassed our expectations. You knew needs that I hadn't expected. I am forever grateful that you were recommended by our case manager." – Lori H.
---
"This is the best company I have ever worked for. We have the same heart and love for what we do." – LC, caregiver
---
"Very personalized and deeply caring. Your name fits your business." – Robert T.
---
"I highly recommend all the caregivers at ComForCare Home Care. They were recommended to us by another family of one of their patients and I can see why. All the caregivers that worked with my Mother-in-Law were wonderful. They actually cared about her and were knowledgeable about how to help her and work with her, given her dementia. Everyone we dealt with was very professional and I would recommend them to anyone who needs home healthcare services." – Michele F.
---
"Very conscious, considerate, friendly caregivers. Offers companionship and tends to daily needs with expert attention." – Suzanna M.
---
"We appreciate the professionalism and compassion we experienced with ComForCare. In particular, Meredith is wonderful." – Beth P.
---
"All were well trained and confident. We enjoyed having them in our home. Very few changes in schedule. ComForCare went above & beyond meeting my husband's needs. I've been involved in Community Care for years. This staff was the best prepared I have seen." – Patricia W.
---
"Grateful for this job and all staff. 3+ years and looking forward to bright future at a great company." – JJ, caregiver
---
"My dad is in assisted living but had falls, especially at night with too many trips to ER at midnight. We now have stellar help from ComForCare stay through the night. No more falls and I have peace of mind when I put my head on my pillow. Daddy loves the company and looks forward to her arrival." – Becky C.
---
"We appreciate the communication of staff, especially Retta. Caregivers have all been kind and courteous, helpful. An asset to the care for client." – Elizabeth C.
---
"Always ahead of or on time. Professional appearance and always polite. If you want someone to provide the best care for a loved one, these are the people to do it." – Leo & Ellen M.
---
"We all credit ComForCare for keeping our parents at home at the end of their life. Without ComForCare it wouldn't be possible. The caregivers are super. All are kind, helpful, and attentive. We can rely on always having care there for our mom. We are grateful for their dependability." – Ann K.
---
"Sally was kind and ran many errands for me. You have a wonderful business, and I will gladly recommend it." – Inez L.
---
"Love working here, everyone is so nice and helpful. You all are a blessing!!!" – KN, caregiver
---
"Always in tune to patient and family member requests. Always willing to stay later to finish a task related to mom's care. Best scheduling and administrative support anyone could expect. Above and beyond!" – Jennifer B.
---
"I am truly impressed with the professionalism and efficiency of the agency!" – Eleanore F.
Whether your loved one needs assistance only a few hours a week or around-the-clock, our team is happy to help! Call (830) 632-5887 to learn more about the transition care services offered through ComForCare Home Care (New Braunfels, TX).