Client and Caregiver Satisfaction
---
Between 2016 and 2018, a client satisfaction survey was completed to rate our caregivers on courtesy and compassion, timeliness and reliability, understanding of needs, performance and attentiveness. We are very proud to say 100% of our clients say they would recommend ComForCare to family and friends!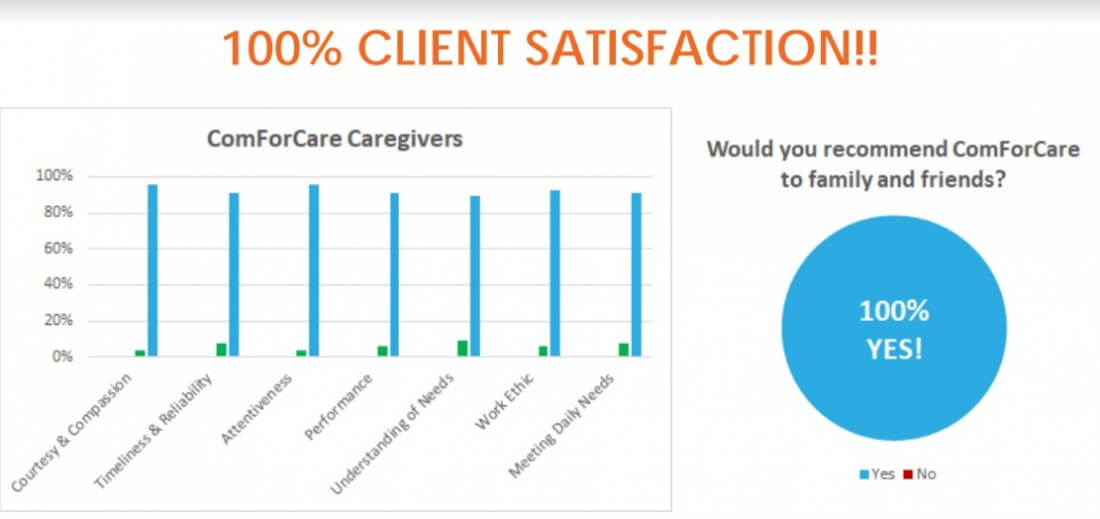 More Kudos from our Clients and Caregivers
---
10/2019 – "Wendy and Holly are…exceptional. From the bottom of our hearts, thank you. Y'all were a blessing in our lives. Wendy, specifically deeply touched my dad's life in a way that we will never forget. Holly was his second caregiver who touched his heart also. Matt and Retta, y'all are truly amazing. We love you all…" Lena M.
---
10/2019 – "Quality, Compassionate Care" – Maxine T.
---
10/2019 – "While all the caregivers were very helpful & loving, Retta in particular stands out the most. She's a diamond in the rough. She played an integral role in every part of ComForCare. Everything from scheduling, planning & caregiving…she always exceeded our expectations. She went above & beyond to help us meet our needs. She is on top of it! I also want to thank Matt for everything as well. From the very get go, he helped us address all our needs all the way through all the services w/ ComForCare. THANK YOU" – Christopher M.
---
10/2019 – "All the caregivers I had were great." – Shirley B.
---
7/2019 – "Appreciate all that you do. Thank you." Bill T.
---
7/2019 – "A very good company for seniors." Shirley B.
---
5/2019 – "Very satisfied with the care I received from office and caregivers." Shirley B.
---
5/2019 – "Samantha has been coming a long time now and is very efficient and caring. Lindsey filled in when Samantha doesn't come and does a very fine job." Katie M.
---
5/2019 – "I told people at Health Link Resolute Hospital about the excellence of ComForCare. Lindsey, Sheree, and Retta were always super helpful." John E.
---
5/2019 – "Y'all are wonderful!" Lena M.
---
5/2019 – "Always punctual and courteous. Excellent service from All especially Sheree, Lindsey, Retta and Megan. Recommend to friends and family." John E.
---
5/2019 – "Each of my caregivers was wonderful! Very thorough." Mike Y.
---
4/2019 – "All were well trained and confident. We enjoyed having them in our home. Very few changes in schedule. ComForCare went above & beyond meeting my husband's needs. I've been involved in Community Care for years. This staff was the best prepared I have seen." Patricia W.
---
4/2019 – "All of the girls are very good." Gloria S.
---
3/2019 – "Professional, courteous, personable caregiving." Jennifer B.
---
12/2018 – "My care was just great by all the caregivers. With a broken hip everyone was just so good to me. And when it was time for us to move, Lindsey was just great. Thanks to Matt and all the caregivers." Shirley B.
---
12/2018 – "Very Satisfied." William B.
---
9/2018 – "Jeannie, Jessica, Margaret were excellent. Lindsey was also great. They not only cared for my husband, but also assisted ME. They were always gentle, kind, caring. Jeannie would sit by my husband and visit with him on a one to one basis. Jessica would watch the SPURS with him – he helped her become a SPURS fan. All three ladies could easily help him from chair and bed and showed me how to do this also. Matt, you were so easy to work with. The calls to you about we are on our way to the hospital, don't need a caregiver; or we've been discharged from the hospital, can a caregiver come to our home. So many last minute changes, handled so effectively. Yes, I would highly recommend ComForCare!" Mathilde S.
---
9/2018 – "All the caregivers that I had were all very good. All my care was very good. Nothing to improve on." Shirley B.
---
9/2018 – "Extremely pleased with personnel and caregivers." Norm S.
---
9/2018 – "Kailyn's quick assessment of my wife's oncoming stroke and quick notification may have made a difference in my wife's recovery." Richard P.
---
9/2018 – "Evie is very professional. Right amount of friendliness." Olga B.
---
8/2018 – "Very responsive. Thank you!! We appreciate all you do for my dad." Carol P.
---
8/2018 – "Very professional. Timely. Very attentive to needs – always punctual." Katie M.
---
8/2018 – "Caring, positive attitude, good communication, reliable, attentive, mature personality, ethical. Impressive and professional." Jennifer B.
---
8/2018 – "It starts with Matt, then trickles down to wonderfulness! Matt, Samantha, and Wendy do great service and provide wonderful companionship." Nouhad M.
---
8/2018 – "My Mother-in-Law received wonderful care from the caregivers from ComForCare. Matt was great in making sure we had coverage when we needed it. They were recommended to us to care for my Mother-in-law, and I would happily recommend them to others." Michele H.F. posted on Facebook
---
8/2018 – "I highly recommend Matt and all the caregivers at ComForCare Home Care. They were recommended to us by another family of one of their patients and I can see why. All the caregivers that worked with my Mother-in-Law were wonderful. They actually cared about Lois and were knowledgable about how to help her and work with her, given her dementia. Everyone we dealt with was very professional and I would recommend them to anyone who needs home healthcare services." Michele F. posted on Google
---
8/2018 – "This company is much better prepared to care for dementia patients than previous companies. Very pleased after 2 visits." Gloria K.
---
7/2018 – "Both Jeannie and Elicia were most helpful. Very careful and attentive. I look forward to more association." Shirley G.
---
7/2018 – "Sally was kind and ran many errands for me. You have a wonderful business and I will gladly recommend it." Inez L.
---
7/2018 – "Thank you for all you have done for Mama. We all appreciate your services and that of Sally. We all wish her the best." Sally K.
---
7/2018 – "Matt was outstanding. Gave me advice on how to make our home more safe. Helped rearrange furniture. Very professional. Frances the caregiver made my wife feel pretty again. She lifted my wife's spirit. Frances is a gem and worked hard." Dennis B.
---
4/2018 – "Honestly, in our opinion, you have absolutely nothing to improve on because y'all are that amazing!" Lena M.
---
4/2018 – "Very caring & professional. Everyone in the organization is on top of things." – David F.
---
3/2018 – "I liked the personal type care. It was much more personal and caring than hospice care." – Gladys W.
---
3/2018 – "Always super punctual and courteous. They exceeded my expectations in every respect. An excellent caring company, like family!" – John E.
---
3/2018 – "Thank you for your help with my mom's last days. I had such trepidation on receiving services from any health care company. I now have a different perspective and see the difference in your company from other people's experiences with other companies. You and your staff are caring, kind, and became part of our family. I thank you again for your help and support and all of the ladies who helped our family and showed care and kindness to our mom." – Karen W.
---
2/2018 – "Lindsey and Melissa gave me outstanding service." – John E.
---
2/2018 – "Your organization has provided excellent service to us." – David F.
---
2/2018 – "All the caregivers are good, but some are even better." – Gus R.
---
2/2018 – "Very professional – On time always – Responsible." Katie M.
---
1/2018 – "I want to thank everyone for the outstanding service ComForCare provided to my husband. Jeannie, Jessica and Lindsey were excellent, very compassionate and caring. Matt, especially, went above and beyond what could ever be expected from anyone. I am telling anyone that mentions needing help to contact ComForCare and will continue to do so." – Mathilde S.
---
12/2017 – "Very pleased." – Carol P.
---
11/2017 – "Excellent care from Lindsey, Hilda, and Jeannie. Matt is very caring and passionate about all areas of the business." – Lois F.
---
11/2017 – "Overall excellent service. Excellent caregiver Leanna." – Olga B.
---
11/2017 – "We will recommend your service to family and friends. Matt and everyone else have made our father's return home possible." – Kate M.
---
11/2017 – "Lindsey is just awesome and we all love her. I also really appreciate you working so well with scheduling help." – Ellen K.
---
9/2017 – "We couldn't be happier with ComForCare, Matt & Lindsey. Lindsey is so kind and attentive. We always know she will be on time. Thank you for all you do for us." – Norm S.
---
8/2017 – "Professional, helpful, caring." – Catherine M.
---
7/2017 – "Outstanding service from Matt, Hilda, Nikki, Leanna, and Sam. I recommend your service to family and friends." – Sharon R.
---
6/2017 – "A very professional and caring caregiver." – Olga B.
---
4/2017 – "Jeannie was wonderful all around!" – Marie H.
---
4/2017 – "Always ahead of or on time. Professional appearance and always polite. If you want someone to provide the best care for a loved one, these are the people to do it." – Leo & Ellen M.
---
4/2017 – "All caregivers were very knowledgeable, caring, & responsive above & beyond to our needs. Thank you Lindsey and Jeannie and Matt for a great company." – Tracy H.
---
3/2017 – "All of the staff at ComForCare Home Care were excellent. The caregiver exceeded my expectations. I would highly recommend their services." – Ellen posted on AgingCare.com
---
12/2016 – "Absolutely would use your agency again and recommend." – Rebecca C.
---
11/2016 – "Your professionalism and sincere caring was much appreciated by me and my family in my dad's final days. We can't thank you enough!" – Nancy N.
---
11/2016 – "My dad is in assisted living but had falls, especially at night with too many trips to ER at midnight. We now have stellar help from ComForCare stay through the night. No more falls and I have peace of mind when I put my head on my pillow. Daddy loves the company and looks forward to her arrival." Becky posted on Facebook
---
10/2016 – "Thank you for spending time with my mom and thank you for being so sweet and patient. You really blessed our family." – Elena D.
Whether your loved one needs assistance only a few hours a week or around-the-clock, our team is happy to help! Call (830) 632-5887 to learn more about the transition care services offered through ComForCare Home Care (New Braunfels, TX).