Companionship and Family Respite 24 Hours A Day, in Staten Island, NY
---
Families Need Caregivers, Too!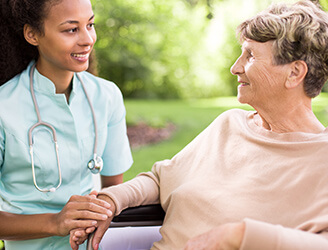 Our caregivers receive ongoing training according to best practices and the latest research available regarding in-home and eldercare. Our goal is to provide high quality, professional care for your loved one according to their needs and wishes.
Although you know your loved one best, we are happy to share the tools and resources that we have learned and developed for home care. Family members are part of the care team, too, which makes caregiving a successful team effort.
---
Family Respite Through ComForCare, Staten Island, NY
We like to remind family caregivers that taking care of themselves is the most important thing they can do for their family. If you are tired and stressed, you are not at your best. To help care for your loved one, we encourage you take care of yourself first. Your health, and getting proper rest and nutrition is extremely important. While our caregivers are at your home, we encourage you to do errands, go for a walk, or take a nap. You will never have to worry because your loved one will be safe and comfortable under the supervision of our trusted caregivers.
ComForCare Staten Island offers a wide range of companion care services:
Help with housekeeping chores
Assistance with grooming, bathing, and dressing
Meal preparation and planning services
Games, puzzles, and other activities
Transportation and assistance running errands
In-home care 24 hours a day, 7 days a week
You can rest easy while we take care of your loved one and all their needs!
Compassionate, Dedicated Companionship
Caregivers offer companionship for your loved one while providing respite for the family. Our in-home caregiver engages with your loved one to keep them socially and mentally active. If your loved one wants to play a game, read a book, or just have a conversation, our caregivers are there to keep them company. If they want to go for a walk or attend a social function, our companion caregiver will accompany them, keeping them safe from falls or injury.
Safety and wellness are our top priorities. When doing errands together, our companions will assist with chairs or walkers, getting in and out of vehicles, and navigating sidewalks and stores. There is no need for family members to worry about a loved one's safety.
---
Our 10-step Hiring Process Ensures Quality Care
Our caregivers go through a rigorous 10-step hiring process that includes not only interviews, but testing, background checks, and behavior assessments. When a ComForCare caregiver arrives at your door, you know that person has been carefully screened and vetted. We do our best to match up caregivers with clients based on shared interests and personalities, so they have a positive connection from the start.
We are a helping hand in so many ways. You can trust our companion caregivers, whether they are running errands with your loved one or sitting and chatting. We provide the highest quality care while you rest, relax, and recharge!
Disclaimer: If you leave this page, available services vary by state licensure and may not apply in New York.
---
Whether your loved one needs assistance only a few hours a week or around-the-clock, our team is happy to help! Call (718) 477-1144 to learn more about the transition care services offered through ComForCare Home Care (Staten Island, NY).