Providing Long-term, Short-term, and One-time Assistance in Staten Island and Surrounding Areas
---
You and Your Family Can Count on ComForCare for Flexible Services!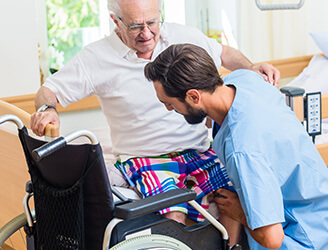 We provide long-term, short-term, and one-time assistance to persons in Staten Island and the surrounding boroughs. A loved one may need help managing a chronic condition or need care after being discharged from the hospital.
By choosing in-home care services through ComForCare Staten Island, you can rest easy knowing your loved one will receive the highest level of care from our trained and certified caregivers.
Hospitals don't always give much notice. We can be available on short notice to provide transportation home and help with getting settled. If you live out of town or your situation doesn't allow you to transport your family member home, ComForCare can help.
ComForCare developed the Transitions of Care Program to provide clients with often needed one-time care services that can evolve as situations "transition." We can adjust schedules at any time to offer longer term and ongoing care plans. Every care plan includes a nurse's evaluation and a personalized routine. Home safety checks are always included as part of our care.
Our team approach includes:
Our Nursing Staff
Professional Caregivers
Scheduling Coordination
Communication with Family
One-Time Care
We can assist one time or as many times as you need us. We can assist in transferring your loved one from a medical facility to an assisted living community or home. Working as a team, we can ensure adherence to the discharge plan while keeping your loved one comfortable, eliminating or reducing the need for readmission.
If one-time care is needed, also known as "hospital to home," we offer the following:
An experienced, reliable caregiver who meets your loved one in the hospital room or discharge area
Transportation home with stops for picking up prescriptions or groceries
Meal preparation
Light housekeeping and laundry
Help to receive and follow discharge plans
Bed tuck service
A debriefing phone call to the family
Short-Term Care
Continuing to monitor care after release from a facility is crucial for a full recovery. ComForCare Staten Island is happy to stay as long as needed to help persons who require extra supervision and assistance after a hospital discharge, including around-the-clock care if needed. Having someone in the home to prepare meals, follow discharge plans, set medication reminders, and help with light housekeeping is a huge relief. Our families tell us they are grateful to know their loved one is well cared for and is being monitored.
---
Long-Term Care
We understand that sometimes the reason for a lengthy hospital stay is due to something that affects a person's ability to perform daily activities or take care of personal needs during recovery. In these situations, a hospital may keep a person longer than necessary; ComForCare can provide the same care at home. We will develop an extended care plan, including around-the-clock supervision, to help meet your loved one's needs so they can return home sooner. Studies show that being at home during recovery or any illness staves off depression and feelings of anxiety and speeds up the healing process.
Our team stays in constant communication with you and your family to decide which care options are best for your loved one.
---
Whether your loved one needs assistance only a few hours a week or around-the-clock, our team is happy to help! Call (718) 477-1144 to learn more about the transition care services offered through ComForCare Home Care (Staten Island, NY).