Professional In-Home Care Services in Staten Island, New York and the Boroughs
---
We Provide Private Duty Nursing Services in Your Home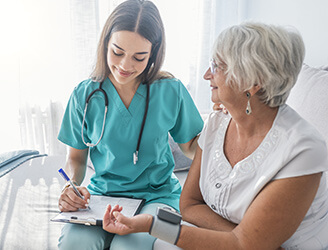 We know as adults grow older, daily tasks and household chores become increasingly difficult to perform without a little extra help. That's where ComForCare Staten Island comes in.
Our professional caregivers are available 24 hours a day, 7 days a week (including holidays) to provide in-home care services when your loved one needs a helping hand around the house.
---
In-Home Care Services in Staten Island, New York
At ComForCare Staten Island, we understand that some daily home tasks become more challenging with age. ComForCare's quality in-home care services can provide the helping hand that your loved one needs to continue living in the comfort of home.
Our compassionate caregivers are able to provide a variety of in-home care services, including:
Meal preparation and planning
Medication reminders
Fall risk assessment and prevention
Errands and transportation assistance
Grooming and hygiene
Toileting, and bathing
Choosing clothing and dressing
Supervision of safety
Exercise and mobility
Light housekeeping* and laundry
Making beds and changing linens
Taking out the trash
Companionship and Family respite
Dementia services (Alzheimer's and other forms)
*also offering housekeeping services only, please call for information.718-477-1144
Private Duty Nursing Care in Staten Island
Our staff nurses manage care for each individual that we serve. With an in home health and wellness assessment, we can make sure each individual is scheduled properly for their particular needs. Our nurses and caregivers stay in communication with each other to report changes in health and the conditions we are monitoring.
---
Family Respite Through ComForCare
When older adults fall ill or begin to have difficulty with daily tasks, it is typically family members who step in and provide the necessary assistance. It may become difficult for family members to keep up with their loved one's home care needs in addition to working and taking care of their own needs. ComForCare Staten Island team members provide family respite services that can be a welcome relief for family members who have been trying to do it all.
---
Companionship in Staten Island, New York
Having a friendly companion can dramatically increase the quality of life for older adults who live alone. Being able to engage in enjoyable activities with a trusted companion can be so rewarding and can help clients to stay lively and healthy. Our caregivers in Staten Island, New York delight in providing companion care services.
Want to learn more about in-home care services in Staten Island, New York or the surrounding areas? Please contact our office at any time, day or night. We are available 24/7!
---
Whether your loved one needs assistance only a few hours a week or around-the-clock, our team is happy to help! Call (718) 477-1144 to learn more about the transition care services offered through ComForCare Home Care (Staten Island, NY).