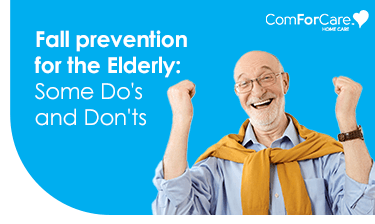 Nobody looks forward to a severe injury from an unpleasant fall. The more you age, the more pressing this issue gets. In addition, this risk can create a fear of falling that can prevent a person from being active.
The (CDC) or Center for Disease Control indicates one in 5 falls cause serious injuries. That is why family caregivers are always on the lookout for ways to prevent falls. A Fact probably not widely known is one in four elderly Americans falls every year. Falls are the leading cause of both nonfatal and fatal injuries for people over 60+. It can lead to a broken bone, hip fracture, or head injury.
A fall can cause seniors to doubt themselves, sometimes leading to severe depression. That's why we have put together a list of several l ways to take preemptive action to minimize most falls. Easy Steps to Prevent Falls.
1) Start at Home:
Keeping your loved one's home safe and sound (mainly from themselves) should be a TOP priority. Removing clutter along with tripping hazards that usually don't seem like a big deal can go a long way in stopping a fall. It's estimated one-third of all falls happen because of tripping over objects randomly found on the floor. Removing area rugs and keeping walkways free of clutter are two essential steps to eliminate trip hazards.
Places like a walk-in bathtub or shower can easily be considered a dangerous place in your loved one's home. However, a fall can be easily avoided through proper checks (noticing slippery tiles) and the installation of grab bars. Another critical element to examine is the lighting in your loved one's home. Always ensure to keep the lighting upgraded, especially if the eyesight is starting to deteriorate for the senior in your care.
2) Maintain Regular Geriatric and Optical Appointments:
A Specialized Physician can detect any ailments and offer a solution right away, along with any hearing or vision tests helping your loved one in the long run. Any other problems related to your loved one's vision or outdated prescription lenses will be noted as well.
These steps can significantly increase your chances of reducing falls for your loved ones. As these medics show the pattern and progress of the patient, along with any other concerns, your doctor can help you with, such as checking all the joints of your loved one and more.
3) Best Thing since Sliced Bread – Nutrition:
The Older you get, the more your diet plays a vital role. Proper intake of food boosts your brain functions, keeping you healthier and active. Remember the blood pumping in your body while you exercise is heavily reliant on the food you eat. While avoiding eating and drinking leads to lightheadedness, fatigue, or even nausea.
4) Dressing Right Is Equally Important:
When it comes to clothing for the elderly, wearing warm clothing is always the way to go. However, make sure to keep the clothing loosely fit as it can make moving around really difficult for a senior.
Next, a priority on your list is the right shoes. Slip-on is debatable and a subject for another day, but wearing the right-sized shoes (Not too big or small) is critical to avoid falls.
Even when not wearing shoes, seniors should always wear slippers or traction socks to minimize fall risk in their homes.
There are many safeguards to prevent falls, from professionally installed tubs to keep the home tidy. If you need help knowing where to start or maintaining your safety daily,
ComforCare can help. In our complimentary consultation, we can inspect your loved one's home and suggest any changes to prevent falls. Our aides are trained in fall management and perform housekeeping duties to ensure safety. To learn more about us and our services, please click here.

Whether your loved one needs assistance only a few hours a week or around-the-clock, our team is happy to help! Call (973) 244-9400 to learn more about the transition care services offered through ComForCare Home Care (Fairfield, NJ).