Prakash Mamtaney is a new Owner of the ComForCare, New Jersey franchise, and Isabel Strelzik, the talented Marketing and Recruitment head at ComForCare - which has a well-reputed name in the home care services industry.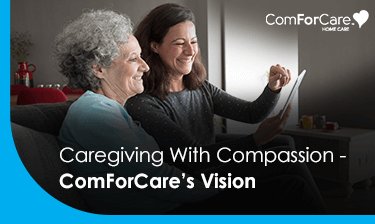 In the interview below, they both talk about what inspired them to lean into a career in home care, from motivations to aspirations for the Healthcare industry, the global healthcare market trends, and how their personal experiences led them to ComForCare.
What's your professional background? How do you feel it's relevant to the home care service space?
Prakash: I have worked in banking for over 30 years and wanted to move from corporate life to a more compassionate type of life. Since I have a daughter with down syndrome, I could relate to the compassion required for special needs individuals through caring for her.
Also, hailing from a traditional Indian background, it is customary for us to look after our elderly parents at home. It was these factors primarily that made me want to join a more care-centric business endeavor.
Isabel: Before ComForCare, I worked in tech recruiting, which allowed me to grow the practical skills necessary to work in marketing and recruiting. More importantly, I worked in a nursing home for four years, giving me the passion for working in eldercare.
I loved the environment and patients, something I greatly missed in the corporate world. That led me back to elder care, but as a recruiter and marketer for a home health agency this time. These two sides of my experience, the skillset, and passion, meet in the middle with my current position, and I'm excited to continue to grow in the field
What's your vision for the ComForCare franchise?
Prakash: To provide quality, affordability, and compassionate care from all our caregivers to seniors while helping them live their best life possible.
What do you wish to contribute to the industry?
Prakash: To provide companionship to seniors with our caregivers as being lonely causes depression, and our primary goal is to deliver happiness.
The way we can counter this is by promoting the DementiaWise and fall risk management program.
The DementiaWise program uses a comprehensive approach to care for clients with Alzheimer's and other forms of dementia. The techniques and methods used cover aspects of care that span the entire course of dementia, from its early stage to later stages.
When caring for clients with dementia, the goal is to increase their positive emotional experiences and engage them with the world and people around them, creating days that are more pleasant, positive, and safe for all.
This program focuses on the positive by supporting and encouraging the client's remaining skills and abilities through personalized, meaningful activities.

And Lastly, to develop further the GaitwayTM Fall Risk Management program. The program goal here is to minimize the risk of falls or fall-related injuries in homebound, senior populations through an approach promoting evidence-based fall risk management practices.
What sets ComForCare Fairfield NJ apart?
Prakash: We take home Care personally. Every person and every situation is unique, so we use our care process to identify a loved one's specific needs, then create a customized care plan to meet those needs. Caregivers also receive client-specific training; this ensures the best care possible is given.
Isabel: Our office is set apart by our caregivers. I know that's a cliche, and every agency says that, but it's true. Nationally, we have been rated a Great Place to Work, ranking #1 in Aging Services. We also are ranked as a Great Place to Work for Women and Millennials.
This reflects our office culture with a lower than average turnover at the local level, with aides who have been with us for six-plus years. When our caregivers are happy, it allows us to deliver high-quality care consistently.
Where do you see this non medical health care industry going? Talk to us about the growth trajectory and how you're spearheading that change (if any).
Prakash: The global home healthcare market will grow at a compound annual growth rate of 7.9% from 2020 to 2027. Considering the population aging worldwide and increased patient preference for value-based healthcare will fuel market growth and why non-medical health care will be hand in hand with the home health care market.
As I am part of the baby boomers generation, and most of the people in my peer group entered or will be part of the growth market, there will always be a need for home healthcare. Meantime our goal will always be to provide quality care to them.
Isabel: We have noticed so far, and I believe we will continue to see, is the increase in demand for home care services. We are doing our part by continuously recruiting the best caregivers in the job market to have a staff of trained and highly skilled aides to care for incoming clients.
ComForCare is well-renowned for its compassionate caregivers and innovative programs that encourage the elderly to grow gracefully while continuing to do what they are passionate about.
We also provide Dementia Care for people with Alzheimer's disease and other forms of dementia. As well as help with disability support and activities of daily living.
To learn more about the No.1 provider in Aging Services for your loved ones with acclaimed home care service benefits tailored for you, click here.
Whether your loved one needs assistance only a few hours a week or around-the-clock, our team is happy to help! Call (973) 244-9400 to learn more about the transition care services offered through ComForCare Home Care (Fairfield, NJ).