9 Ways to Protect Seniors During Winter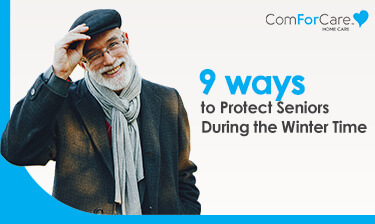 Seniors are most prone to the challenges of winter. The drop in temperature causes the elderly to be at risk as they are prone to injuries and illness. The most common of all is Hypothermia.
What is Hypothermia?
Hypothermia occurs when an individual's body temperature drops below 95°F. This decrease in temperature reduces the immunity of senior citizens while increasing the chances of heart attacks, complications in their kidneys, and more.
As loved ones age, their immunity decreases and they become more susceptible to complications in harsh weather, such as hypothermia.
Here are a few tips to help your elderly and loved ones stay healthy during the winter:
Set your heating to 68–70°F as this ensures your loved one stays warm.
Draw your curtains to trap heat indoors. If there are gaps in the windows, use weather stripping to keep the cold air out.
Constantly checking on their food intake as a healthy body-fat percentage is important during the winters.
Inspect all your backup power systems in case the temperature starts to drop. For e.g., your electric heaters are functioning and are ready to be used.
Ensure your loved ones have sufficient enough clothing to handle the cold, such asd socks, overcoats, warm woolens.
Keep them covered with extra blankets throughout the day and night. In order to ensure proper circulation, see to it that the blankets cover feet and calves.
Make your loved one wear a hat and scarf to retain maximum body heat.
encourage your loved ones to walk to ensure that they are receiving regular exercise, which is essential for body heat.
Winter can be lonely, so it's important to check in with your loved ones to help keep them positive and brighten their mood. A brief phone call can make a huge difference in their mood.
Above all, keep encouraging senior citizens to never let anything stand in the way of receiving care. If your loved one needs someone to help them stock-up on their groceries or shovel snow, they must always feel comfortable seeking help from a family member, neighbor or a professional.
Following this checklist will allow you to avoid most of the challenges faced by seniors during the winter. But, if you need professional help, you can always reach out to our team at ComforCare.
Contact us to learn more about how we can help your loved one stay warm. At ComForCare we strive to educate our clients during winter while connecting seniors with home care, nursing and other services.
Whether your loved one needs assistance only a few hours a week or around-the-clock, our team is happy to help! Call (973) 244-9400 to learn more about the transition care services offered through ComForCare Home Care (Fairfield, NJ).