Dementia Care Services
Co-owner Tino Negri was instrumental in the development of our dementia training program called "DementiaWise®," a nationally-certified dementia care program that teaches caregivers how to improve the lives of those struggling with Alzheimer's and dementia by teaching them how to redirect behavior, avoid triggers that can upset those patients and cognitive stimulation activities that keep them active, engaged and stimulated. Through our DementiaWise® program, our caregivers are able to deliver custom, in-home care services that align with industry best practices.
ComForCare Home Care Palm Beach is a DementiaWise®-certified office, which means we have met the corporate high standards for dementia education and caregiving excellence. Dementia care services allow individuals with Alzheimer's disease or another type of dementia to do more of what they enjoy in the familiarity their home. The dementia care services we provide are designed to enhance the quality of life by helping clients to remain independent for as long as possible.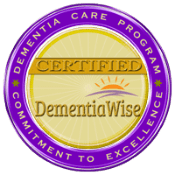 DementiaWise® is recognized by the Alzheimer's Association for incorporating the evidenced-based Dementia Care Practice Recommendations in the following topic areas: Alzheimer's and dementia, person-centered care, assessment and care planning, activities of daily living, and behaviors and communication.
Whether your loved one needs assistance only a few hours a week or around-the-clock, our team is happy to help! Call (561) 630-1620 to learn more about the transition care services offered through ComForCare Home Care (Palm Beach County, FL).