Our Home Care Radio Show
https://www.comforcare.com/florida/palm-beach-gardens/meet-the-owners.html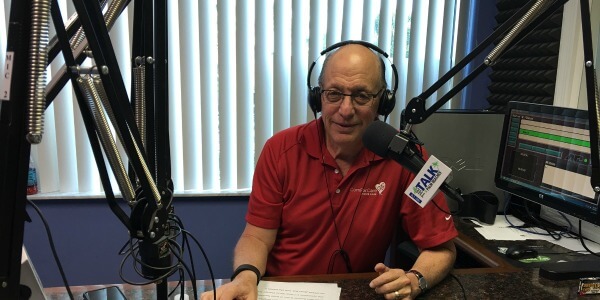 Check out Scott Greenberg's weekly radio shows broadcast on 95.9 FM Mondays at 6:00 PM.
Learn about the life and times of Bobby Darin with performer Ron Gartner, who has a show called "Splish Splash: The Music of Bobby Darin," coming to you soon. So much you didn't know unveiled in this fun and entertaining episode of "OMG, I'm Getting Older and So Is My Mom."Transcript.
Episode 490 - September 18, 2023
Last night on "OMG, I'm Getting Older and So Is My Mom" Scott talks with Joseph and Jonathan Karp, recently named Super Elder Lawyers, about how to ensure your wishes for how you want to live the rest of your life are honored. A most important and informative discussion. Transcript.
Episode 489 - September 11, 2023
Dying is never an easy subject but knowing how people die and how to cope with a loved one who is dying is extremely important. Last night on "OMG, I'm Getting Older and So Is My Mom" Dr. Leonard Hock talks about dying in his inimitable fashion using grace and humanity to help us weather this very difficult time. Transcript.
Retirement is scary and how to navigate the financial planning for retirement can be even scarier. Last night on "OMG, I'm Getting Older and So Is My Mom" David Rosell of Rosell Wealth Management discusses how you can make retirement the best it can be.Transcript.
Last night on "OMG, I'm Getting Older and So Is My Mom" author Debbie Weiss talks about her new book "On Second Thought... Maybe I Can," a story about defying the odds and challenges of being a family caregiver to three loved ones and still managing to reinvent herself after age 50.Transcript.
Having trouble hearing your TV or your friends when they're speaking to you? Are the noises in the restaurant impacting your enjoyment on your night out? Last night on "OMG, I'm Getting Older and So Is My Mom" Scott speaks with Dr. Lyndsey Bride, Audiologist at Adept Audiology, about hearing aids, early warning signs, and causes of hearing loss. All of your questions will be answered on this incredibly informative and important show. Transcript.
Last night on "OMG, I'm Getting Older and So Is My Mom" Dr. Joy Siegel talks to Scott about moral injury. What is it? Why we should care? What can be done about it? A very powerful and thoughtful show that is bound to make you think. Transcript.
Kelley Jackson, PhD and Nurse Practitioner, joins us tonight to talk about an exciting new research project being conducted at Florida Atlantic University. The project is designed to look for a possible correlation between driving habits and the early detection of dementia. Find the answer when you tune in to this very interesting show.Transcript.
In one of Scott's most fascinating episodes of "OMG, I'm Getting Older and So Is My Mom" he speaks with Lizbeth Uzcategui from Hanger Clinic about artificial limbs and prosthetics. Born without a right arm, Lizbeth talks about the challenges and victories of being an amputee and the progress being made in the world of prosthetics. Transcript.
Reverse Mortgages, are they good or bad? Well, they may not be what you think they are, which is why you should listen to last night's episode of "OMG, I'm Getting Older and So Is My Mom."JD Dinnocenzo, a reverse mortgage expert, will answer all your questions and confront many of the myths surrounding reverse mortgages. A fascinating look at this most important product. Transcript.
Last night on "OMG, I'm Getting Older and So Is My Mom" Dr. J.W. Snider, radiation oncologist at South Florida Proton Therapy Institute, explains proton radiation vs. traditional x-ray radiation and when each would be best for you. In a wide ranging interview Dr. Snider answers all our questions about this state of the art therapy available in only 42 centers across the country. Fascinating and informative. Transcript.
Last night on "OMG, I'm Getting Older and So Is My Mom" Dr. Jeffrey Kotzen shares all you need to know about semaglutide, weight loss and an interesting new "non-surgical facelift." So much valuable information shared in this must listen to episode. Transcript.
Last night on "OMG, I'm Getting Older and So Is My Mom" Rabbi Jay Lyons talks us through green burials and why they may be for you. An interesting look at a new concept in burial options for those concerned about the environment and the ecological impact of traditional funerals or cremation. Transcript
Florida State Senator Tina Polsky unpacks this year's most important legislative session. In a wide ranging review of the key events that took place, hear her tell the complete story beyond the headlines. Transcript
One of the most important educational conferences dealing with Alzheimer's disease is the Alzheimer's Community Care annual conference. It's coming up soon and Dr. Karen Gilbert, conference coordinator, tells us all that is available at this year's conference to help people living with the condition live their best life possible. Transcript.
Long term care will be necessary for over 70% of us over the age of 65 at some point in our lifetimes. How you will pay for it is often misunderstood. Jeff Lukosavich, long term care insurance expert, answers all your questions about how you might benefit from having long term care coverage. Transcript
Getting older is always challenging, but for the LGBTQ community there are many more problems to overcome. Join Scott with his guest Paul Iarrobino, a nationally known expert on LGBTQ aging as they discuss the challenges this community faces. Transcript
Brain health and Alzheimer's disease are connected in ways that we don't always understand. Dr. Karen Gilbert explains how and also explains what the new drugs you're hearing all about do and don't do. A terrific guest with great information to share. Transcript
Sex after 60! Dr. Shannon Dowler talks about why it's never too late and how to be smart about sex as we enter our 60s and beyond. A very important and most entertaining show. Transcript
Do you struggle with sleep problems? Do you have insomnia, sleep apnea, restless leg syndrome? If you have any trouble sleeping, Dr. Harneet Walia, Director of Sleep Medicine at Miami Cardiac and Vascular Institute, answers all your sleep questions. Transcript
Episode 469 - February 27, 2023
Radiology is often misunderstood and comes with many fears surrounding this amazing diagnostic tool. Those fears are addressed and your questions are answered by Radiologist Dr. Barry Katz in a fast moving and very informative show. Transcript
Episode 468 - February 20, 2023
February is Heart Health Month and Dr. Heather Johnson, board certified cardiologist at Baptist Health, tells us how to stay truly heart healthy. Lots of useful and new information that addresses the many changes in heart care that affect us all. Transcript
Episode 467 - February 13, 2023
Scott talks about fitness as we age with Renee Main, Vice President of Healthy Aging at LifeTime Fitness. A fascinating show about how we're never too old to start moving again. Transcript
Episode 466 - February 6, 2023
Life insurance settlements. What are they? Should you consider selling your life insurance? How much is it worth? What can you use the proceeds for? The answers to those questions and more with Lisa Rehburg of Rehburg Life Insurance Settlements. Transcript
Episode 465 - January 30, 2022
Ron Gartner and Fran Heller of Bicoastal Productions talk about the joys of bringing music and entertainment to people all over America. In a fun and lively show, we cover how music enhances our lives and how what we see is changing with the times. Transcript
Episode 464 - January 23, 2023
What do care managers do and when should you consider hiring one? Allison Shevlin, geriatric care manager from Alpert Jewish Family Service, explains everything you need to know about care management. Transcript
Episode 463 - January 16, 2023
Dr. Thomas Morrissey, Director of Gynecological Oncology at Lynn Cancer Institute, talks about the amazing progress being made in cervical cancer prevention and treatment. He also talks about the HPV vaccine and when you should get that as well as early warning signs you should watch out for. A most informative show. Transcript
One of the best kept secrets in adult education and entertainment is Osher Lifelong Learning Institute. Kami Batchelder from the Jupiter campus of OLLI explains all the opportunities available to you to stretch your mind and have fun at the same time. Transcript
Episode 461 - December 19, 2022
Pickleball. What is the fascination and attraction? Brian McMahon, head pickleball professional at Lifetime Fitness in Palm Beach Gardens, shares why this is the fastest growing sport in the country and how you can start playing. Transcript
Episode 460 - December 12, 2022
Hoarding is not exactly what we all think it is and can take on many variations. Dan Lagani of Silver Solutions guides us through all we need to know about this incredibly complicated condition. Transcript
Episode 459 - December 5, 2022
Author Cameron Huddleston joins Scott to talk about her book "Mom and Dade, We Need to Talk." A fascinating conversation about finances and more.
Episode 458 - November 28, 2022
Autism is often misunderstood and misdiagnosed. Dr. Marlene Sotelo, Executive Director of the Els for Autism Foundation, clears up all the confusion and tells us of the amazing working being done at the Foundation. A most interesting show.
.Episode 457 - November 21, 2022
Drug and alcohol attorneys Mark Astor and Audra Simovitch talk about help for those struggling with substance abuse. It's a fascinating conversation about a very important subject that is often overlooked and rarely talked about. Link to Transcript
Episode 456 - November 14, 2022
The tables get turned on Scott. Joe and Jonathan Karp wanted to learn more about home care, so they decided to go to the expert and interview him. They were great interviewers if Scott says so himself. Link to Transcript.
Episode 455 - November 7, 2022
Linda Borgmeyer of Novoleo explains how occupational therapy can help train us to live our best lives possible. Their unique approach to therapy can change outcomes for the better and she explains it brilliantly. Link to Transcript.
Episode 454 - October 31, 2022
Urinary incontinence, weight loss and Doulas in childbirth were just a few of the topics discussed with Dr. Jeffrey Kotzen. An overwhelmingly informative show you won't want to miss. Link to Transcript.
Episode 453 - October 10, 2022
Open enrollment can be the best opportunity for you to update your Medicare coverage or the time you make a huge mistake you will regret for a very long time. Desirae Mearns helps explain what are your options and how you should approach open enrollment to ensure you make the right choice.
Episode 451 - September 26, 2022
Beau Lynch, CEO of Neurobehavioral Hospitals, talks about the Baker Act, their two new hospitals, and mental health services in general. A fascinating show that talks about a most critical need and these new services designed to fill a very large gap in our mental healthcare needs. Link to Transcript.
Episode 449 - September 12, 2022
Dr. Eileen DeGrandis, Director of the Baptist Health Vein in Boca Raton, talks about vascular disease and answers all your questions. A fascinating guest and even more fascinating subject. Link to Transcript.
Episode 448 - September 5, 2022
Marion Frank from Wellington Cares talks about the great work the organization does in the community and Minx Boren, master certified coach, author, poet, chef, and keynote speaker at the 6th Annual Wellington Cares Luncheon talks about finding your strengths to dial down stress and dial up happiness. An uplifting and empowering show you won't want to miss.
Episode 447 - August 29, 2022
Margaret Lynn Duggar, President of the Florida Council on Aging, joins Scott to talk about everything from advocacy to long term planning and workforce issues to developmental disabilities. Fascinating show with lots of good information. Link to Transcript.
Episode 446 - August 1, 2022
David Rosell, author of "Failure is Not An Option: Creating Certainty in the Uncertainty of Retirement", joins Scott to talk about all things retirement. There are many risks to our financial plan in retirement and David helps us to avoid them. A most informative show for anyone in or near retirement. Link to Transcript.

Episode 444 - June 27, 2022
Food insecurity is an often misunderstood and underestimated problem that impacts many people you may not expect. Belinda Lasky of Alpert Jewish Family Service talks about the problem and what they're doing to address this very real need. Link to Transcript.
Episode 443 - June 13, 2022
Dr. Ian Russinoff, Medical Director of Sollis Health, is our guest talking about a new concept in urgent care. Accessibility and availability can be challenging even in urgent care environments so tune in to listen to this new unique offering. Link to Transcript.
Episode 442 - June 6, 2022
Everyone has a story (or stories) to tell and everyone leaves a legacy. Scott speaks with one of our local stalwarts, Gerry Richman, about his fascinating life and the incredible history he was part of including Watergate, Vietnam, LBJ and so much more. This is a show you won't want to miss.
Episode 441 - May 23, 2022
Dr. Jeffrey Kotzen, OB/GYN, talks about everything from female incontinence to concierge specialty medicine. In a wide ranging conversation about the general health of our female population, we cover a lot of important ground.
Episode 440 - May 16, 2022
Dr. Patrick McGrath and Kellie Kintz of No-CD talk about OCD and its treatment. In a fascinating look at a condition few of us understand, many of our questions are answered in this fast paced show. Link to transcript.
Episode 439 - May 9, 2022
After three long years, it's back. Yes, Alzheimer's Community Care's educational conference is back live and in-person. To learn more about the incredible line-up and the details on where, when and how to register, tune into this most important episode of "OMG, I'm Getting Older and So Is My Mom" with ACC's VP of Education, Dr. Karen Gilbert. Link to transcript.
Episode 438 - May 2, 2022
Amanda Kulics and Jay Zeager of Clinics Can Help tell us about this amazing non-profit that brings together people who need durable medical equipment with people who have excess supplies. They do that and so much more so tune in and learn how you can help. Link to transcript.
Episode 437 - April 25, 2022
Drs. Connie Porcaro and Barbara O'Connor Wells, authors of a new book titled "Communication Problems from Brain Injury or Disease" are Scott's guests in a fast moving show you won't want to miss. Questions about speech, swallowing, or other communications issues? Tune in for the answers. Link to transcript.
During Parkinson's disease awareness month, listen in as we discuss the role of occupational therapy can play in helping those living with PD and other movement disorders thrive. Occupational therapist Nicole Reynolds brings her depth of experience to the conversation to share with listeners how they can live their best lives possible. Link to transcript.
Episode 435 - March 28, 2022
We have all seen the silver alert signs on the highways when someone with dementia gets lost in their car, but what about when the get lost on foot? The results can be tragic if they're not found quickly. Dr. Karen Gilbert and Paula Menigoz of Alzheimer's Community Care explain their revolutionary program to protect your loved ones from potential tragedy.
Episode 434 - March 21, 2022
The Americorp volunteer program through Alpert Jewish Family Service is an amazing way to match seniors with time to seniors in need to advance companionship that benefits all parties. Doni Greenblatt and Cara Gottlieb share the details and more on this fun and informative show.
Episode 433 - March 7, 2022
You may be surprised to learn that mental health and addiction are actually quite similar and have some of the same commonalities. Experts Cindy Wides and Carolyn Yasuna of Alpert Jewish Family Services discuss mental health first aid and addiction services available to people in need. A most interesting conversation.
Episode 432 - February 28, 2022
Dr. Ashish Sahai, Chief of Surgery at West Boca Medical Center, talks about the hospital's new Spine and Orthopedic center and everything else you wanted to know about spine surgery. An engaging guest with terrific insight to help you understand your options should you be considering spine surgery.
Episode 431 - February 21, 2022
Dr. Néerav Shah, Chief of Cardiology at Palm Beach Gardens Medical Center, talks to Scott about a wide variety of cardiac care in honor of hearth health month. Lots of valuable information shared on this very diverse show.
Episode 430 - February 14, 2022
Dr. Elaine Rotenberg, Clinical Director of Alpert Jewish Family Services, talks about breaking the stigma of mental health and a riveting interview she just had with Sean Astin, the son of Patty Duke. Growing up in a dysfunctional household has many challenges as does the stigma of mental health. Listen to this most fascinating and informative show.
Episode 429 - February 7, 2022
Bariatric Surgeon Dr. Ariel Rodriquez explains what this surgery entails, who should consider it, and what you should expect if you go forward. It's a terrific conversation filled with valuable information.
Episode 427 - January 24, 2022
Rosemary Nixon of Encore PBC talks about the state of volunteerism in our area and why it is so difficult to match organizations who need help with those who can. A most interesting conversation you will thoroughly enjoy. Link to transcript.
Episode 426 - January 17, 2022
Everything you ever wanted to know about Covid with Dr. Osiyemi, Medical Director or Infectious Disease at Good Samaritan Medical Center and St. Mary's Medical Center. Dr. Osiyemi shares lots of very practical and useful information and dispels some common myths. A most fascinating show. Link to transcript.
Episode 425 - January 10, 2022
Elder Law Attorney Mitchell Kitroser talks about how to protect yourself from unintended exploitation from friends, family and foes. It's a fascinating look at many of the possibilities we may fail to consider when we try to ensure our estate goes exactly where we want it to. Link to transcript.
Episode 424 - December 13, 2021
Going back to work as we age brings some unique challenges and opportunities. Mature temps expert Richard Ross helps us navigate the senior employment world. Link to transcript.

Episode 423 - December 6, 2021
A fascinating conversation with Florida State Representative Dana Trabulsy who talks with Scott about the leap she took to politics, why she did so and her commitment to her constituents. Link to transcript.
Whether your loved one needs assistance only a few hours a week or around-the-clock, our team is happy to help! Call (561) 630-1620 to learn more about the transition care services offered through ComForCare Home Care (Palm Beach County, FL).