Caregiver of the Year 2018
Shirley Norwood honored with prestigious award at ComForCare's annual franchise conference.
Shirley Norwood, a ComForCare Caregiver in Wilson/Greenville, N.C., recently received the 2018 Caregiver of the Year award at ComForCare's annual franchise conference.
"Shirley is our most in-demand, requested, and busiest caregiver," said Preston von Arx, franchise owner of ComForCare in Wilson/Greenville. "Her services are in high demand among clients and families in the area because no matter the situation, Shirley puts her clients first. We say that caregiving is Shirley's sixth sense because she quickly and accurately assesses each client's needs and family dynamics."
Through this award, Shirley was recognized for her years of compassion, hard work and dedication. One example of this, is how Shirley taught a two-year-old client, who was born with Trisomy X and Epilepsy, how to walk and talk over the course of eight years. Shirley worked long hours with the client, commuting twice a day to get her ready for school, and then ready for bed. At Shirley's wedding in July 2017, the client walked down the aisle as Shirley's flower girl.
"There wasn't a dry eye in the room when the client began her flower girl duties," continued von Arx. "Shirley's hard work helped that little girl live her best life possible."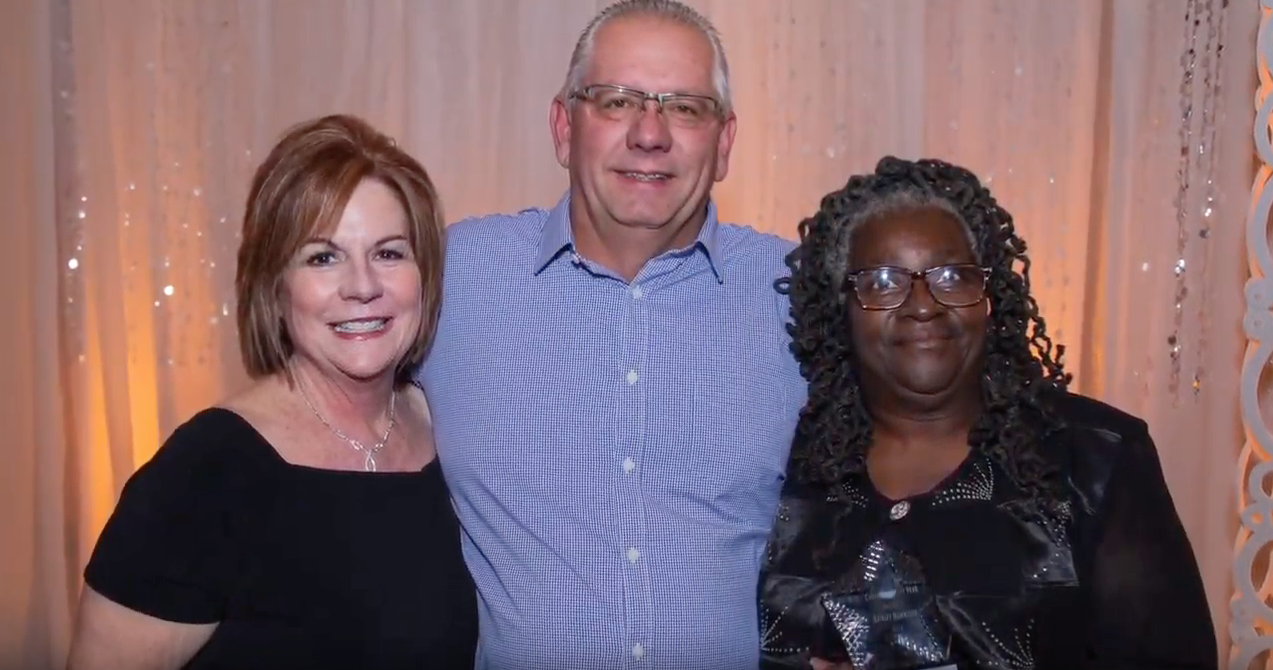 Shirley has been with ComForCare of Wilson/Greenville since 2004 and is part of one of the fastest-growing franchise business sectors in the country. According to the U.S. Census Bureau, the number of people 65 and older is expected to increase to 55 million in 2020, and demand for businesses like ComForCare will continue to increase as people hope to age in place.
Erika Newsome, Client Care Coordinator:
Erika joined our team 13 years ago as a part-time CNA while she was attending college in Greenville. At the time she was working towards earning hours of shadowing to complete her major in Substance Abuse Counseling then apply to graduate school. When my Client Care Coordinator position opened up several months later I asked Erika if she would "step into those shoes" temporarily while I searched for the perfect candidate. Well, 13 years later Erika continues to more than fill those shoes! She is very dedicated to our clients and their care, their families and works endlessly to make sure they receive the highest quality of care from the caregiver that is the best fit for each client. Erika also is our 'in-house" Long Term Care Insurance specialist, so for our clients who have LTCI (currently about 70% of our clients) Erika quickly studies their policies, obtains the proper authorizations to initiate a claim and files all paperwork to successfully submit their invoices to the insurance companies for payment of some or all of the care we provide them. She also works hand in hand with Niki on caregiver recruiting and scheduling for clients in Wilson, Rocky Mount and surrounding areas.
Pam Boykin, Administrative Assistant:
Pam is a retired middle school math and science teacher who refers to her job at ComForCare as her "retirement job." She takes real pride and joy in her role at ComForCare, which truly goes way beyond an "administrative Assistant" position. Pam seems to know just about anyone who calls or comes into our offices to inquire about services for their loved ones; either she taught them or one of their relatives in school. Pam assists Erika with processing caregiver applications and most payroll functions for us as well as some marketing, as she is very much a people person. She also helps Preston plan our caregiver in-services and Christmas parties! She will do anything asked of her but especially loves meeting our clients and visiting them on a regular basis. She handles client and caregiver introductions when we start a new case or place a new caregiver with an existing client. She also focuses on caregiver recruiting and training in Greenville. Pam is often seen driving around our territory in our white and blue ComForCare Mini-Cooper, so be on the lookout for Pam and our Mini!
Whether your loved one needs assistance only a few hours a week or around-the-clock, our team is happy to help! Call (252) 243-4020 to learn more about the transition care services offered through ComForCare Home Care (Wilson, NC).