Personal Care at Home for Your Loved One in North San Diego
---
When seniors become unable to do the tasks they found previously routine, it can be frustrating. Asking for or receiving assistance with personal care and other life activities such as bathing, dressing, housekeeping, running errands, or hygiene is often a humbling experience.
At ComForCare North San Diego, our caregivers concentrate on building trusting relationships with our seniors and their families and delivering the best in-home care services. We know that requesting assistance from a friend is easier than seeking it from a stranger. Recognizing emotional needs and feelings is critical to fostering these relationships. It enables our clients to maintain their independence in their homes and live life with the highest quality and dignity.
---
What is Personal Home Care in North San Diego, CA?
Personal home care is a senior living option for older individuals who do not necessarily need the constant monitoring that might require living in adult nursing home facilities, memory care facilities, or receiving nursing services.
Rather than relocating to a nursing home community, a senior can enjoy the freedom and independence of staying in their own home while receiving personal care services from a trained caregiver or caregivers. In contrast to nursing care or companion care services, personal in-home care services focus on the special day-to-day needs of seniors on-site at your family member's home. Personal care services are designed to assist with activities that an aging individual or family may find too difficult or dangerous to perform. Personal home care providers see to the overall well-being of seniors by helping with mobility and activities of life such as bathing, medication reminders, and dressing.
ComForCare North San Diego can help you better understand if personal in-home care is right for your loved one.
---
What are the Benefits of In-Home Personal Care Services?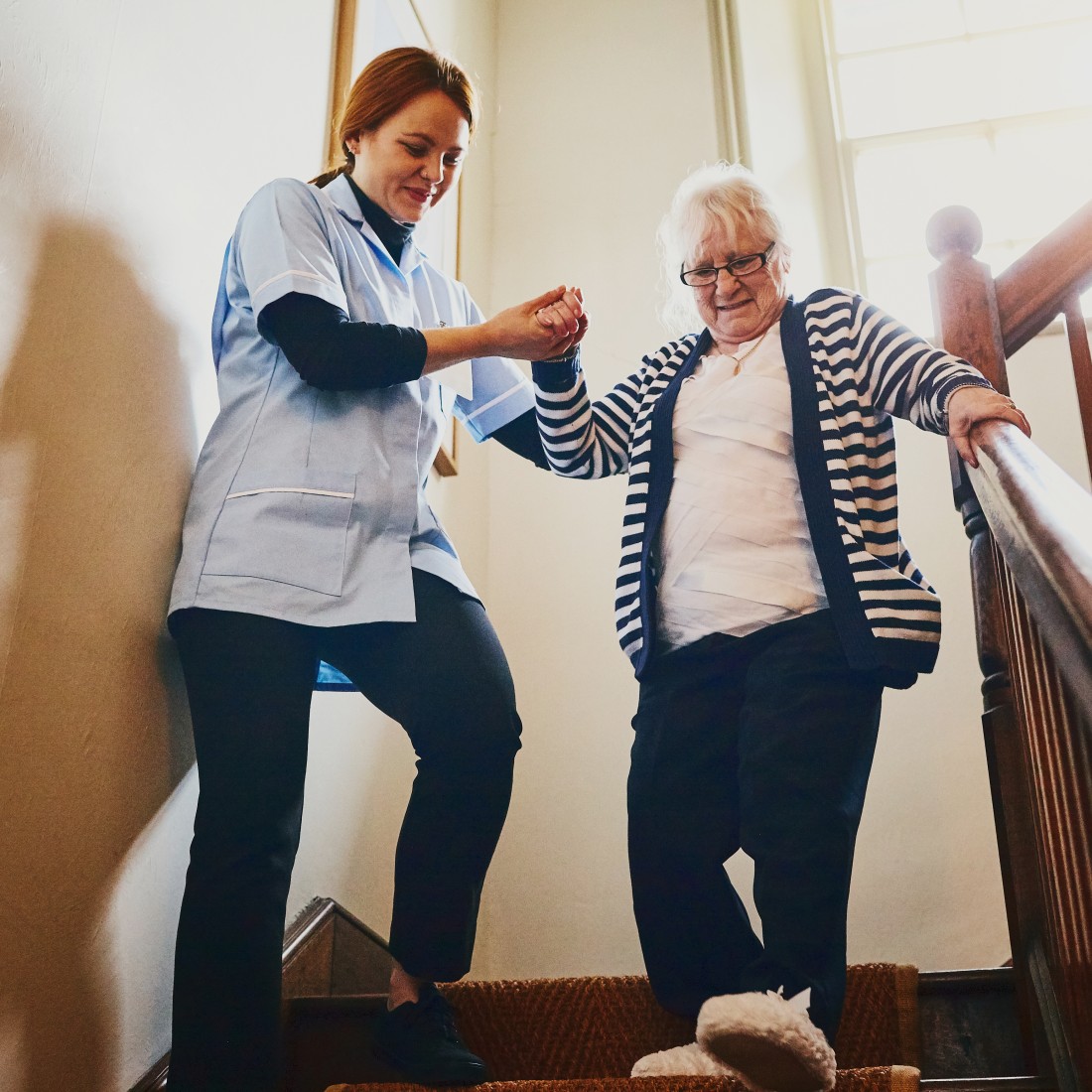 Many seniors and their families who have opted for in-home personal care services find that the assistance provided by a caregiver or team of caregivers dramatically increases the quality of life of the entire family.
Family caregivers see a reduction in the time and energy they must dedicate to their family member's home care needs, allowing them to spend more quality time during visits with the family. Seniors receiving personal care services benefit from having a trained caregiver on-site to provide expert personal care assistance when needed. Many seniors feel more comfortable receiving personal care services while living at home, as familiar things and people surround them. Caregivers often serve as resources to family caregivers, consulting with them about the best ways to execute their loved one's home care plan. It provides peace of mind that a knowledgeable person is on hand to answer questions.
ComForCare North San Diego has been providing beneficial home care services to North San Diego, CA for many years. Our caregivers can assist your family and see to the needs of your loved one with care and respect.
---
How Do Personal Care Services Differ from Adult Nursing Care?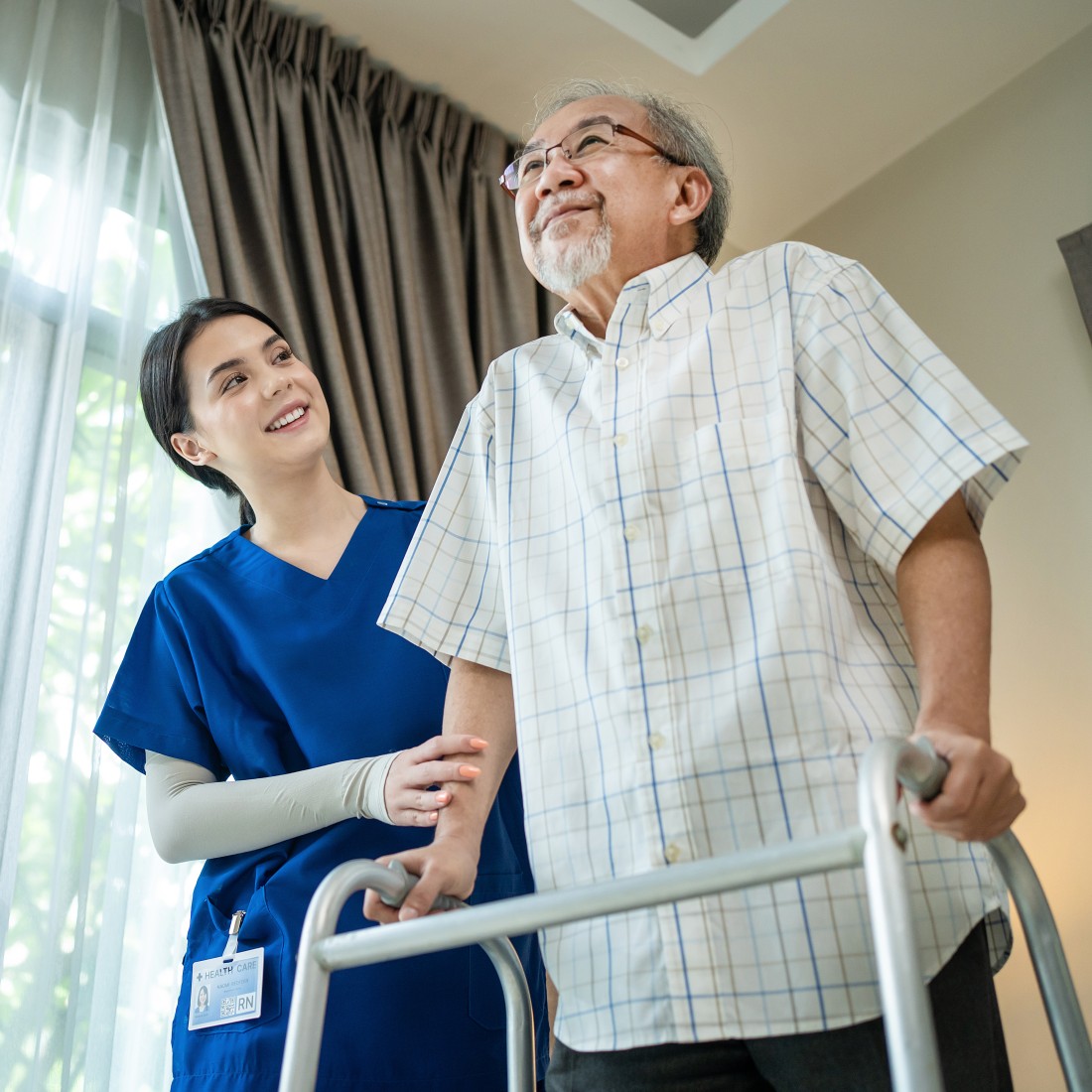 Personal care services differ from adult nursing care services in several ways. Nursing services are focused on the specific medical needs of seniors and are often conducted by certified nurses and other highly skilled medical professionals.
Trained caregivers provide personal care services and, while they can assist with things like medication reminders, they do not provide nursing care services that a medical professional might. Personal care caregivers are explicitly focused on the non-medical assistance seniors need to go about their day, living safely and with a high level of independence. They provide peace of mind and quality services to families who may feel in over their heads regarding their loved one and their home care assistance needs.
Contact ComForCare North San Diego to learn more about the difference between personal home care and other types of senior care.
---
What is Included in Personal Care Services for Seniors Living in North San Diego, CA?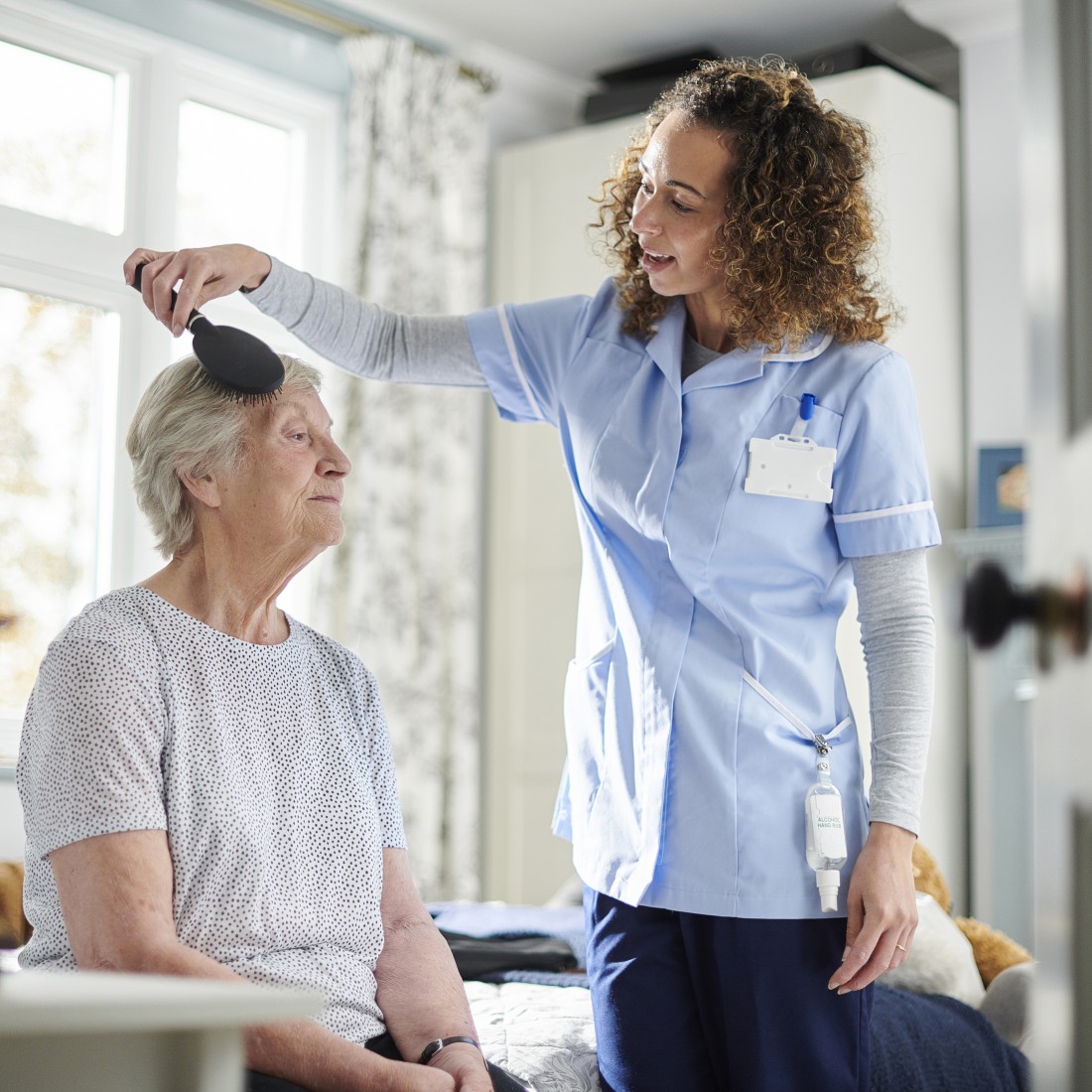 There are many personal care assistance activities personal home care caregivers provide for seniors and adults in need of personal care services. Personal care caregivers provided assistance with day-to-day tasks and activities of life such as dressing, meal planning/meal preparation, bathing, housekeeping, running errands, and many other non-medical activities adults sometimes have trouble with.
Our caregivers see that adults are living their best lives, and their personal care needs are seen to completion. While not explicitly focused on companionship, personal care caregivers, by the nature of the service, often serve as companion care providers, providing a friendly and compassionate friend to lonely people and individuals experiencing isolation living alone. By providing your loved one with a caregiver that not only renders services that see to their personal care needs but can also serve as another person to talk and interact with, the overall well-being of your senior increases.
---
Some of the Personal Care Services Our Caregivers Provided to Seniors
Our caregivers are available to provide the following home care services:
Bathing
Eating
Toileting
Everyday dental care
Positioning and transferring
Dressing and walking
Laundry
Performing light housekeeping
Shopping for groceries
Meal planning/meal preparation
Medication reminders
Running errands
Arranging visits to medical appointments
Arranging visits with friends
Ensuring a safe living environment in the home
Assistance after a hospital stay
Sharing experience with family caregivers
Promoting quality of life
A home care plan is different for every person. ComForCare North San Diego will meet with your family and loved one to determine what home care activities and tasks our caregivers need to provide assistance with and develop a strategy that allows you senior to stay happy and healthy in their home, enjoying their family and independence.
---
Family Respite Personal Care Services for Your Loved One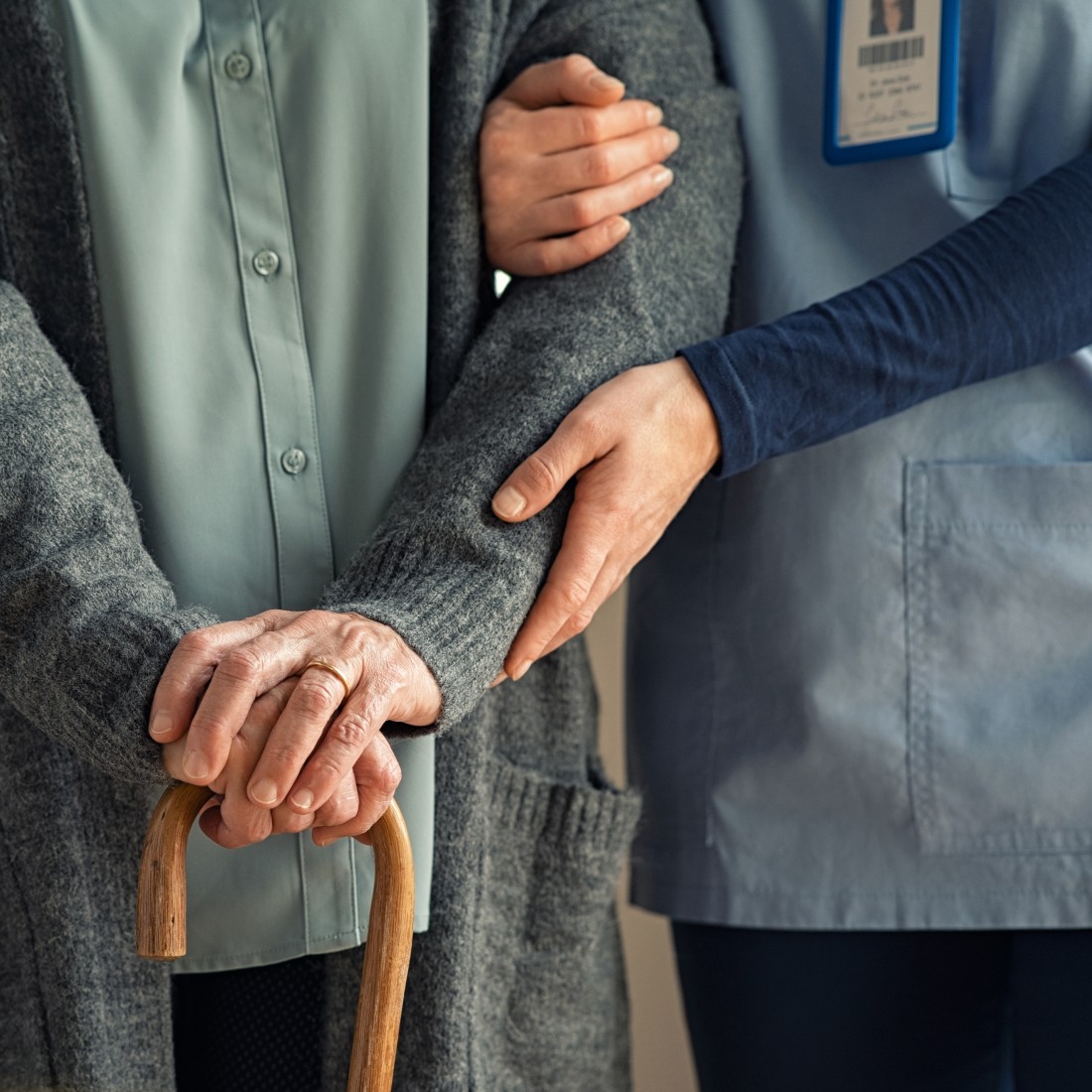 When your family acts as the primary caregivers for a loved one's senior care, it can be a challenging and exhaustive experience. Providing the level of home care services to meet the needs of your loved one is not always possible in today's world. ComForCare North San Diego and our skilled and compassionate caregivers are here to assist when you need to step back, take a break, and recharge.
Our personal care caregivers are available to provide short, medium, and long-term family respite services for families in need of home care services temporarily for their loved one. If you are going out of town on business or taking a vacation, our caregivers will help you fill the gap in the home care needs of your loved one. Whether your needs are an emergency or not, our caregivers will meet with your family and your senior to assess their needs, home safety level, and care plan. We will learn what tasks and activities your senior requires assistance with, such as bathing, dressing, medication reminders, or housekeeping. ComForCare North San Diego is your home health care professionals and is here for you and your loved one in your time of need. Let our senior care experts take some of the weight off your shoulders.
---

How Do I Pay For In-Home Care Services for My Loved One?
ComForCare North San Diego understands that our neighbors in North San Diego, CA may require assistance with paying for the cost of home care for their loved one. We are proud to work with both Medicaid and the Veterans Affairs (VA) to help lower the cost of providing much-needed help to people in need.
---
Whether your loved one needs assistance only a few hours a week or around-the-clock, our team is happy to help! Call (858) 247-1005 to learn more about the transition care services offered through ComForCare Home Care (North San Diego, CA).