ComForCare Rolls Out Private-Duty Nursing Across Franchise System Elevating Level of Home Care to Wider Client Population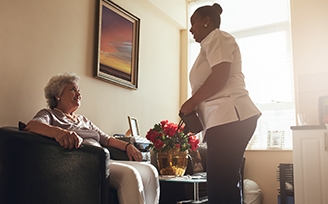 ComForCare Health Care Holdings, LLC, a premier provider of home care, is rolling out private-duty nursing across the franchise system. The announcement was made at the company's annual franchise conference, held recently in Dallas. The move is part of ComForCare's strategic plan to add programs across the health care continuum to serve older adults in a more holistic way and is the latest in a series of developments that will allow for a more continual transition of care without disrupting the client's lifestyle at home.
Currently thirteen percent of ComForCare's offices offer private-duty nursing, and those services are being met with rapidly increasing demand in those markets and across the system. Now, with a formal program in place, ComForCare's goal over the next three to five years is to have every office obtain the infrastructure and accreditation to offer home care and private-duty nursing to its clients.
---
Over the past year, ComForCare's headquarters has aggressively staffed and invested in the tools to support this program. Emily Wiechmann, RN, BSN and clinical program manager for ComForCare, joined the organization in May to overhaul the private-duty nursing program in-place and make it scalable for the entire franchise system. The expectation with this program is that existing franchise locations will advance their services to include this while future franchise prospects will adopt this expanded business model from day one.
---
"Private-duty nursing requires highly complex, hourly care for patients with very acute needs to ensure they are safe in their own home," said Wiechmann. "The goal is for every office to be able to accept clients across the entire age spectrum and have the skills to take on cases that require a higher level of care due to physical restrictions, illnesses or chronic medical conditions."