ComForCare Franchises Offer Customizable In-Home Care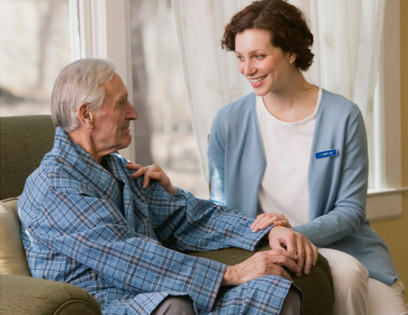 Large and Growing Roster of Services Meet Needs Across the Continuum of Care
One person needs significant, 24-hour help for a few days after returning home from a hospital stay. Another may only want one or two visits a week for help with household tasks and getting to and from doctor's appointments and the pharmacy. A third may need ongoing assistance.
One of the biggest challenges faced by individuals and their families when they evaluate in-home care franchise services is that continuum of care. That's why ComForCare is designed to meet clients where they are — and then grow alongside their needs over time.
Roster of Services Allows Flexibility
"We know every client is going to be unique, and that's why we have developed different service levels to meet a wide range of needs," explains Tom Parks, Vice President of Franchise Development. "Knowing they have a single, trusted source for all the services they need gives clients, and their families, tremendous peace of mind while also helping our franchise owners earn the most revenue possible."
A ComForCare in-home care franchise also can offer non-medical care, disability support, short-term, respite and 24-hour care; dementia care, and in-home nursing care, all designed to provide a turnkey approach to franchise owners when it comes to the clients' continuum of care.
Caregiver Vetting Also Enhances Appeal
And because ComForCare puts every caregiver through a 10-step vetting process, the client knows that he or she is securing the services of someone who's been carefully evaluated.
"Our franchise owners are trained not just on how to hire for skills, but how to assess caregivers in such a way that they can 'match-make' between them and the clients," Parks says. "Clients and families love it when they have an immediate bond and establish trust with someone who's coming into their home. And when that happens, they turn to ComForCare when they need additional support, as well as honor our franchises with referrals to others in the community."
ComForCare is a successful, multifaceted business that offers peace of mind and improved quality of life for senior citizens and their families through support around life's everyday tasks, and also through exciting and innovative programs such as DementiaWise® , a comprehensive care approach for people with Alzheimer's disease or other forms of dementia that focuses on accentuating the positive by supporting and encouraging remaining skills and abilities; and Joyful Memories, an interactive, singalong program that uses the power of music to create connections and positive outlets for emotional expression. ComForCare's other differentiators include in-home nurse assessments, customized care plan development and ongoing evaluation to anticipate and plan for changes, all based on the client's interests, hobbies, skills and abilities that provide joy and purpose in their life.
Learn More About the ComForCare Franchise Opportunity
For in-depth details about the ComForCare franchise opportunity, download our Free Franchise Opportunity Report. You also can learn more by visiting our research pages.