Alzheimer Association Recommends Us for Dementia Care in Stamford, CT
---
Finding qualified dementia care is the first step, we can help with the next.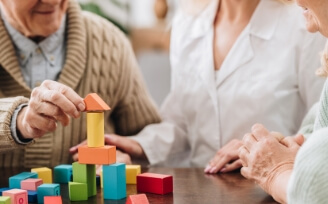 When a loved one is diagnosed with dementia, it can be a life-altering moment. Among the first things you will be concerned about is locating the best available help. Fear of the unknown is present, too. You must find dependable help and reliable, trained caregivers.
One phone call to ComForCare (Stamford, CT) can ease both your concerns and fears. DementiaWise is the proprietary dementia curriculum for ComForCare. It has been reviewed and approved by the Alzheimer's Association® because it meets the Alzheimer's Association Dementia Care Practice Recommendations in certain topics as per a report issued on March 9, 2017. See report results: http://content.comforcare.com/alzheimers-association-review-of-dementiawise.
Calling ComForCare (Stamford, CT), is the smart first step when your loved one is given a dementia diagnosis and you aren't sure where to turn for help. Our ComForCare office is a DementiaWise®-certified location, which means we have met the high corporate standards for dementia education and caregiving excellence.
---
Quality Services and Specially Trained Caregivers
With ComForCare at your side, you can expect your loved one to have better days, and you will both enjoy more time together. Our caregivers can create a daily routine, set goals, and give home safety recommendations. They are trained to guide your loved one toward positive emotional experiences. They have learned practical approaches to ensure their care meets your loved one's needs and preferences.
Caregivers will:
Implement best practices for dementia care
Take special care to recognize behavioral triggers, which may prevent or reduce any challenging dementia behaviors
Meet client's physical and emotional needs
Engage in meaningful activities based on the client's interests, hobbies, skills, and abilities.
As your loved one's abilities begin to diminish, you can turn to us at ComForCare (Stamford, CT). Our dementia care services can assist with as much or as little in-home care as your loved one needs throughout every stage of Alzheimer's disease or any form of dementia. Our caregivers can help maximize independence and quality of life while helping your loved one stay in the familiarity of home.
---
Whether your loved one needs assistance only a few hours a week or around-the-clock, our team is happy to help! Call (203) 705-0220 to learn more about the transition care services offered through ComForCare Home Care (Stamford, CT).