Hear From Our Clients in the Waukesha, WI area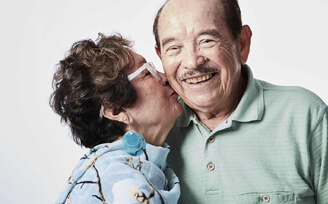 We know finding the best care for your loved one is an important decision. By hiring us, your loved one may avoid hospital readmission, and even reduce hospital stays, while maximizing independence and quality of life. We help with medication reminders, meal preparation, safety supervision and more. We provide respite for the family caregivers, and companionship for your loved one.
---
ComForCare enables our clients to stay home
and
do all the things they love.
Hear what some of our customers have to say about working with our team at ComForCare Waukesha:
---
"This company is a godsend. Neither of my parents were thrilled about having caregivers coming into their home, but it was necessary due to the progression of my mom's dementia. After starting on their service, my parents ended up being very pleased and appreciative of their help! And I had peace of mind knowing my mom was being cared for when I couldn't be there. Three caregivers in particular, Kena, Julie & Jeanne, were phenomenal and formed a bond with my mom. Whenever there were issues (another company sending the wrong type of care supplies, etc...), Ellie and Kate were quick to update me and assist me in resolving them. They were there for my family when we needed help, and I am eternally grateful to them for everything."
- Katie Dougherty (via FaceBook)
---
"The services are great."
– Ken
---
"Excellent, I love the girls. They are wonderful!"
– Carol
---
"I have had services for a long time. I appreciate what they do for me as well as what they did for my husband while he was alive."
– Gloria
---
"Overall, I feel ComForCares are great. They fit with my schedule and needs."
– Chad
---
"I am the Scheduling Coordinator and am completely mesmerized by the amazing opportunities that this company has to offer! They, or I guess I should say we now, are really passionate about our employees as well as our clients. This company has set me up for success and given me the tools necessary to perform my job at the highest standard possible! I am extraordinarily proud to be a member of this team. I am excited to share my own level of compassion and experience with the clients and caregivers alike."
- Kate
---
Hear what some of our caregivers have to say about working at ComForCare Waukesha:
"Comforcare homecare has been a great place to work. They instill team work ethics and care deeply for the care of every client as well as employees. They continue to educate their caregivers with the tools and skills needed to ensure that they meet and exceed their customer expectations."
- Hattie
---
"I will be likely to tell a friend or family about ComForCare it a really good company I love working here."
- Jonelle
---
"Working for CFC is like being part of a family. Administration is supportive and always there when I need them."
- Nicole
---
"Very accommodating for scheduling and clients. Easy to talk to, educated on experience and very helpful in all situations."
- Alisa
---
"The office staff are very supportive and I know I can trust them to help me with questions or concerns I have. My schedule is amazing and so are all my clients."
- Hannah
---
"They really care about their clients and caregivers."
- Judith
---
"Being able to create your own job schedule, meeting new clients, the communication within the office, and the way the company it self try's to give back to the employees by recognizing what we do as caregivers on a daily basis."
- Quiana
Whether your loved one needs assistance only a few hours a week or around-the-clock, our team is happy to help! Call (262) 446-2000 to learn more about the transition care services offered through ComForCare Home Care (Waukesha/Hartland, WI).