Private-duty Nursing Available in Cuyahoga County, Ohio and the Surrounding Areas
---
When you or your loved one needs in-home nursing care, we can help.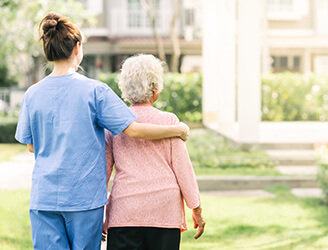 ComForCare's commitment to quality care begins with our compassionate, proactive approach. This process begins with identifying clients' and families' unique needs, creating a client-centered plan of care, coordinating with physicians and other providers and implementing quality assurance throughout the duration of care.
---
Transitions of Care Program
The transition from hospital to home can be difficult. Clients have questions and concerns, and they often need extra help adjusting. Our nurses can review discharge instructions, educate clients on self-care, manage medications, conduct home safety checks, and coordinate follow-up care. We can help with one time care, short term or long term care, always evaluating and adjusting as needed.
---
Disease Management Services and Chronic Conditions
When your loved one is recovering from an illness or dealing with a chronic illness, you need someone who is committed to their care. For persons living with diabetes or congestive heart failure for example, our team can help successfully manage the condition with the goal of maximizing well-being.
You will need someone who can ease the pain and eliminate worries, and a ComForCare nurse can do just that. Not only are our nurses at ComForCare Cuyahoga County licensed, bonded and insured, but they are passionate about providing the best care possible to the clients we serve.
Diabetes
Dementia and Alzheimer's
Stroke
High blood pressure (HBP)
Arthritis
Chronic heart failure (CHF)
Chronic obstructive pulmonary disease (COPD)
---
Wound Care
We can deliver ongoing nursing care for clients living with diabetic ulcers, pressure ulcers, venous stasis ulcers, non-healing surgical wounds, and healing surgical wounds.
---
Continuous Care
Our nurses provide support to ensure dignity, independence and quality of life despite age or physical limitations. We are available 24 hours a day, 365 days a year (including holidays) to provide private-duty nursing services to clients in Cuyahoga County and the surrounding areas. ComForCare nurses can administer medications, perform personal care or provide respite to family members.
Whether your loved one needs assistance only a few hours a week or around-the-clock, our team is happy to help! Call (440) 638-7001 to learn more about the transition care services offered through ComForCare Home Care (Cuyahoga County, OH).