Personal Care Services In Cuyahoga County, OH
---
ComForCare: Always There When You Need Us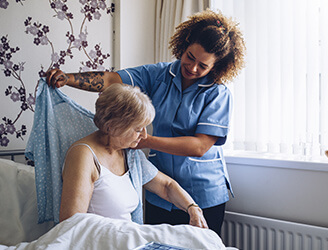 Our ComForCare personal care services can help persons who are recovering from illness and injury, living with disabilities or chronic illness, or seniors who are aging and not as able as they used to be. Sometimes people need a little help for a little while or ongoing care for extended periods of time.
While family members usually step up and cover many of the needs of their loved ones, professional caregivers are able to fill in when family members are not available. Sometimes family members live out of town, or live too far for daily visits.
By seeking personal care assistance through ComForCare, people needing care in the Cuyahoga County areas of Ohio can take comfort in knowing that daily needs will always be met. And family members can rest assured that ComForCare will treat their loved one with the highest level of respect and compassion.
Families who are less stressed can continue to enjoy healthy relationships that are free of the pressures that family caregiving situations may introduce.
Personal care needs that caregivers may provide assistance with include:
Incontinence Care

Basic Tooth Care

Skin Care

Grooming Nails

Bathing

Hair Care

Dressing

Washing Linens
Providing Personal Companionship and Compassion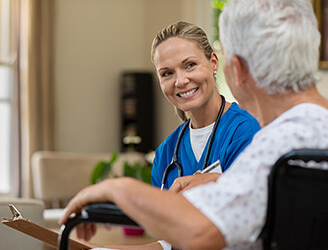 ComForCare caregivers can provide help with many of the activities of daily living. These activities may vary widely from person to person, but our caregivers take the time to get to know our clients so that they can help. We want to provide each individual with the right amount of supervision or freedom that is best for them.
Our caregivers are pleased to be able to provide companionship and laughs, in addition to help with grooming, laundry, or any other personal care needs. ComForCare caregivers want our clients in the Middleburgh Heights and Parma areas to recognize them as friendly faces as well as helping hands.
---
Incontinence Care for Seniors
Seniors that have incontinence issues may be hesitant to take part in many activities outside of the home. Having a professional caregiver provide help with incontinence needs can help seniors to be comfortable so that they are more confident leaving the home and taking part in social activities.
ComForCare caregivers are adept and sensitive when developing an incontinence care plan, so that accidents are avoided. Having a caregiver that is professional and compassionate assist with personal care needs can help to relieve some of the emotional distress that often accompanies incontinence.
---
Personal Care Assistance for Seniors
In many cases, seniors require assistance with personal care after being released from a hospital or medical facility. The home may need to be reorganized to accommodate medical equipment or to facilitate independent mobility. ComForCare caregivers can provide assistance with optimizing home setups and helping with daily senior personal care needs.
We offer seniors in the Cuyahoga County, Strongsville area help with many senior personal care tasks, including:
Light Housekeeping
Safety Supervision
Meal Preparation
Grooming and Dressing
Toileting and Bathing
Transportation and Errands
Family Respite
Our caregivers receive ongoing training and education and can also help seniors to understand condition diagnoses and adapt to recommendations for lifestyle changes. ComForCare caregivers can help make it easier for seniors in the Cuyahoga County areas to transition to living at home following medical release.
Whether your loved one needs assistance only a few hours a week or around-the-clock, our team is happy to help! Call (440) 638-7001 to learn more about the transition care services offered through ComForCare Home Care (Cuyahoga County, OH).