Our Home Care Radio Show
https://www.comforcare.com/florida/palm-beach-gardens/meet-the-owners.html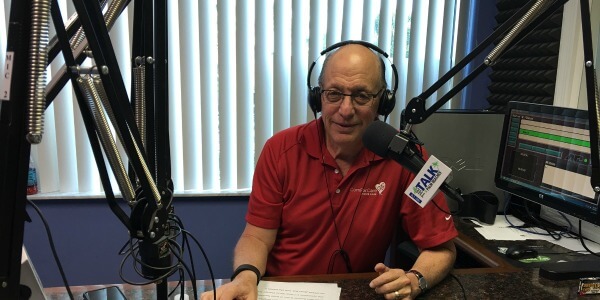 Check out Scott Greenberg's weekly radio shows broadcast on 95.9 FM Mondays at 6:00 PM.
Food insecurity is an often misunderstood and underestimated problem that impacts many people you may not expect. Belinda Lasky of Alpert Jewish Family Service talks about the problem and what they're doing to address this very real need.
Dr. Ian Russinoff, Medical Director of Sollis Health, is our guest talking about a new concept in urgent care. Accessibility and availability can be challenging even in urgent care environments so tune in to listen to this new unique offering.
Everyone has a story (or stories) to tell and everyone leaves a legacy. Scott speaks with one of our local stalwarts, Gerry Richman, about his fascinating life and the incredible history he was part of including Watergate, Vietnam, LBJ and so much more. This is a show you won't want to miss.
Dr. Jeffrey Kotzen, OB/GYN, talks about everything from female incontinence to concierge specialty medicine. In a wide ranging conversation about the general health of our female population, we cover a lot of important ground.
Dr. Patrick McGrath and Kellie Kintz of No-CD talk about OCD and its treatment. In a fascinating look at a condition few of us understand, many of our questions are answered in this fast paced show. Link to transcript.
After three long years, it's back. Yes, Alzheimer's Community Care's educational conference is back live and in-person. To learn more about the incredible line-up and the details on where, when and how to register, tune into this most important episode of "OMG, I'm Getting Older and So Is My Mom" with ACC's VP of Education, Dr. Karen Gilbert. Link to transcript.
Amanda Kulics and Jay Zeager of Clinics Can Help tell us about this amazing non-profit that brings together people who need durable medical equipment with people who have excess supplies. They do that and so much more so tune in and learn how you can help. Link to transcript.
Drs. Connie Porcaro and Barbara O'Connor Wells, authors of a new book titled "Communication Problems from Brain Injury or Disease" are Scott's guests in a fast moving show you won't want to miss. Questions about speech, swallowing, or other communications issues? Tune in for the answers. Link to transcript.
During Parkinson's disease awareness month, listen in as we discuss the role of occupational therapy can play in helping those living with PD and other movement disorders thrive. Occupational therapist Nicole Reynolds brings her depth of experience to the conversation to share with listeners how they can live their best lives possible. Link to transcript.
We have all seen the silver alert signs on the highways when someone with dementia gets lost in their car, but what about when the get lost on foot? The results can be tragic if they're not found quickly. Dr. Karen Gilbert and Paula Menigoz of Alzheimer's Community Care explain their revolutionary program to protect your loved ones from potential tragedy.
The Americorp volunteer program through Alpert Jewish Family Service is an amazing way to match seniors with time to seniors in need to advance companionship that benefits all parties. Doni Greenblatt and Cara Gottlieb share the details and more on this fun and informative show.
You may be surprised to learn that mental health and addiction are actually quite similar and have some of the same commonalities. Experts Cindy Wides and Carolyn Yasuna of Alpert Jewish Family Services discuss mental health first aid and addiction services available to people in need. A most interesting conversation.
Episode 432 - February 28, 2022
Dr. Ashish Sahai, Chief of Surgery at West Boca Medical Center, talks about the hospital's new Spine and Orthopedic center and everything else you wanted to know about spine surgery. An engaging guest with terrific insight to help you understand your options should you be considering spine surgery.
Episode 431 - February 21, 2022
Dr. Néerav Shah, Chief of Cardiology at Palm Beach Gardens Medical Center, talks to Scott about a wide variety of cardiac care in honor of hearth health month. Lots of valuable information shared on this very diverse show.
Episode 430 - February 14, 2022
Dr. Elaine Rotenberg, Clinical Director of Alpert Jewish Family Services, talks about breaking the stigma of mental health and a riveting interview she just had with Sean Astin, the son of Patty Duke. Growing up in a dysfunctional household has many challenges as does the stigma of mental health. Listen to this most fascinating and informative show.
Episode 429 - February 7, 2022
Bariatric Surgeon Dr. Ariel Rodriquez explains what this surgery entails, who should consider it, and what you should expect if you go forward. It's a terrific conversation filled with valuable information.
Episode 428 - January 31, 2022
Dr. Tom Pearson, CEO of the Armory Art Center, helps educate us about this amazing resource here in Palm Beach County. Whether you are an accomplished artist or a beginner; whether you're two or 92, there is something there for everyone.
Link to transcript
.
Episode 427 - January 24, 2022
Rosemary Nixon of Encore PBC talks about the state of volunteerism in our area and why it is so difficult to match organizations who need help with those who can. A most interesting conversation you will thoroughly enjoy. Link to transcript.
Episode 426 - January 17, 2022
Everything you ever wanted to know about Covid with Dr. Osiyemi, Medical Director or Infectious Disease at Good Samaritan Medical Center and St. Mary's Medical Center. Dr. Osiyemi shares lots of very practical and useful information and dispels some common myths. A most fascinating show. Link to transcript.
Episode 425 - January 10, 2022
Elder Law Attorney Mitchell Kitroser talks about how to protect yourself from unintended exploitation from friends, family and foes. It's a fascinating look at many of the possibilities we may fail to consider when we try to ensure our estate goes exactly where we want it to. Link to transcript.
Episode 424 - December 13, 2021
Going back to work as we age brings some unique challenges and opportunities. Mature temps expert Richard Ross helps us navigate the senior employment world. Link to transcript.

Episode 423 - December 6, 2021
A fascinating conversation with Florida State Representative Dana Trabulsy who talks with Scott about the leap she took to politics, why she did so and her commitment to her constituents. Link to transcript.
Episode 422 - November 29, 2021
Film Director Sky Bergman tells us tells us about her incredible debut documentary "Lives Well Lived." A fascinating, upbeat look at aging gracefully and with purpose. An award-winning documentary available on PBS and other outlets, it's a film and show you don't want to miss.
Link to transcript.

Episode 421 - November 22, 2021
The holidays can be very stressful especially if you're struggling with depression or other mental health issues. Dr. Amanda Darling discusses how to cope during this season and others and what you can do if you're feeling more than a little down. Link to transcript.
Episode 420 - November 8, 2021
Dr. Arif Dalvi joins Scott to talk about Parkinson's and Alzheimer's diseases. From the latest developments in Deep Brain Stimulation (DBS) and MRI Focused Ultrasound to early diagnosis and treatment, there is so much packed into this hour you'll want to listen more than once. Link to transcript.
Episode 419 - November 1, 2021
Don Hill, Director of the ADRC's (Area Agency on Aging) helpline discusses this amazing - and free - resource to help seniors get services they desperately need, but don't know exist. Link to transcript.
Episode 418 - October 18, 2021
Nancy Jobe of KEPRO describes the amazing services they provide Medicare recipients to help them access the best care available. It is an often unknown resource to help recipients with any problems they may be experiencing from providers and the information can be invaluable. Link to transcript.
Episode 417 - October 11, 2021
Medicare open enrollment can be the most dangerous time of the year for Medicare recipients. So much to consider and so confusing, but Desirae Mearns helps us understand the risks and the benefits in this most important show. Link to transcript.
Episode 416 - October 4, 2021
Dr. Jessica McCain of Southern Comfort Medical Marijuana Clinic answers all your questions about Medicinal Cannabis. A fascinating show that truly helps us understand who should, when we should and for what conditions we should consider Medical Marijuana. Link to transcript.
Episode 415 - September 27, 2021
Scott speaks with Rosemary Nixon, Founder of Encore PBC, a non-profit that helps seniors connect with employers interested in older employees. She spoke about the benefits of hiring seniors, of which there are so many. We all have many preconceived ideas about seniors in the work place and Rosemary helps us get to the reality of older workers' benefits to society. Link to transcript.
Episode 414 - September 20, 2021
Dan Lagani, CEO of Silver Solutions, reports on a recently conducted survey he completed about family caregiving. The results are incredibly information and somewhat surprising. A truly eye opening show you should not miss. Link to transcript.
Episode 413 - September 13, 2021
Internal Medicine Specialist and former Chief of Staff at Palm Beach Gardens Medical Center Dr. Shady Salib is in the studio with Scott. Everything from the impact of Covid to early detection of critical illnesses, and what role vaccines play in preventing many diseases we deal with, Dr. Salib tells us what we need to hear. A great show for all. Link to transcript.
Episode 412 - August 30, 2021
Dr. Elena Rehl, Breast Surgeon at Good Samaritan Hospital, discusses the importance of early detection for breast cancer, the latest in treatment and so much more. An important and potentially life saving show you won't want to miss. Link to transcript.
Episode 411 - August 9, 2021
Coral Shores Behavioral Health is a community hospital specializing in mental health issues. Learn about how the stigma surrounding mental health is unfortunate and can prevent people from obtaining the necessary treatment from which they can most benefit. Listen as CEO Stephen Quintyne and Chief Medical Officer Dr. Anisha Gulati help us understand how valuable our mental health is. Link to transcript
Episode 410 - August 2, 2021
Radiation Oncology is an extremely important treatment option for those suffering from all forms of cancer. In fact, 60% of people with cancer will likely have some radiation throughout their treatment. Dr. Tim Williams, Medical Director of South Florida Proton Therapy Institute (SFPTI), explains how it works and how the latest developments in the field can impact one's quality of life. Link to transcript.
Episode 409 - July 26, 2021
Pain management is an often misunderstood discipline in the medical arena, but this show tries to clear up some of these misconceptions. Dr. Saulis Banionis, Pain Management Specialist, helps explain what pain management is, does and who can benefit from it. Link to transcript.
Episode 408 - July 19, 2021
Dr. Chadwick Hampton, Orthopedic Surgeon specializing in knees and hips, talks about the latest developments in robotic knee surgery. As a former military surgeon, Dr. Hampton brings unique and impressive skills to his practice and it's a show you don't want to miss. Link to transcript.
Episode 407 - June 21, 2021
Monica McAfee, Chief Innovation and Marketing Officer of John Knox Village talks about a different way to look at your senior living options. A great guest with lots of useful information. Link to transcript.
Episode 406 - June 14, 2021
Green burial? What's a green burial? List to Rabbi Jay Lyons and Deena Borzak of South Florida Jewish Cemetery explain. A fascinating look at an alternative to conventional burial options and why you might consider this as you think about your own burial planning. Link to transcript.
Episode 405 - June 7, 2021
Ophthalmologist Dr. Douglas Leder talks about the things you care most about when it comes to your eyes. From cataracts to macular degeneration and from buying glasses online to which eye drops are best, this show is packed full with useful information. Link to transcript.
Episode 404 - May 24, 2021
Dr. Shady Salib, internist in Palm Beach Gardens, talks about blood pressure. From why it matters to what you should do about it, this show will teach you everything you ever wanted to know about blood pressure. Link to transcript.
Episode 403 - May 17, 2021
A fascinating discussion with Senator Tina Polsky about what transpired during this year's sessions in Tallahassee and how it will impact all of us in the months and years to come.
Link to transcript.
Episode 402 - May 10, 2021
Not every senior living community is the same. There are many differences in options and even within the same category there can be significant differences. Scott speaks with Damon Thomas and Zack Benjamin from Inspired Living in Delray Beach, a new community doing things differently about to open soon. Link to transcript.
Episode 401 - May 3, 2021
Beth Ziglar of the Guardian Ad Litem program talks about the most important work they do and how you might get involved. Working with children can change their lives and yours so tune in to learn more about this amazing program. Link to transcript.
Episode 400 - April 26, 2021
Long Term Care Insurance expert Lisa Beers explains the benefits and the many options in LTCI. A most informative discussion of when, why, and what you should think about buying because, as she explains, 70% of us will have a need for long term care at some point in our lives. Link to transcript.
Episode 399 - April 19, 2021
Dr. David Watson, Founder of Alzheimer's Research and Treatment Center, one of America's leading centers of excellence in Alzheimer's research, talks about the latest news in research and treatment. In a fast-paced, informative show, Dr. Watson tells us about some amazing progress being made today. Link to transcript.
Episode 398 - April 12, 2021
Dr. Tom Minas of the Paley Institute talks about his unique approach to cartilage repair and knee replacement. Dr. Minas has done more cartilage repair than any doctor in the world and when you listen to him, you will understand why he spent 30 years at Harvard. Don't miss this show. Link to transcript.
Episode 397 - April 5, 2021
Dr. KC Cohen, general surgeon at Good Samaritan Hospital and newly appointed Chief of Surgery at Palm Beach Gardens Medical Center, talks about robotic surgery. Listen as she answers all our questions about robotics and why it may be best for you. Link to transcript.
Episode 396 - March 29, 2021
Listen to Dr. Kleper de Almeida, infectious disease specialist, discuss Covid, vaccines, treatments, and the future of our effort to deal with this disease. A most informative show you need to hear. Link to transcript.
Episode 395 - March 22, 2021
Jameel Edney of the Elder Rights Section of the Area Agency on Aging talks about elder fraud, abuse and exploitation. Listen to callers tell their stories and learn how you can protect yourself from becoming a victim yourself. Link to transcript.
Episode 394 - March 15, 2021
Michael Morgan from the Upledger Institute talks about CranioSacral Therapy, a treatment option for migraines, joint and muscle pain, digestive issues, chronic fatigue, Alzheimer's and other types of dementia to name a few. An incredibly informative show you should not miss. Link to transcript.
Episode 393 - March 8, 2021
Deep Brain Stimulation is an amazing treatment for some of the most common symptoms associated with Parkinson's Disease. One of the Nation's premier neurosurgeons, Dr. Jonathan Jagid of the University of Miami, and one of his patients join Scott in an incredible show describing the process and the fantastic results. Link to transcript.
Episode 392 - March 1, 2021
Falling can be a life changing event and never in a good way. There are many ways to prevent falls with some simple precautions. Stephanie Wierzbicka, an expert on falls, explains how. Link to transcript
Episode 391 - February 22, 2021
Interventional Cardiologist Dr. Augusto Villa talks TAVR, Mitralclip, Watchman and Covid for heart month. An amazing show with very important information for us all. Link to transcript
Episode 390 - February 15, 2021
Dan Lagani, CEO of Silver Solutions, talks about the Friction Zone. That's the place where adult children and seniors diverge in their opinions about what is best for each other. A fascinating subject and fast moving show you don't want to miss. Link to transcript
Episode 389 - February 8, 2021
Domestic abuse is a much more serious and prevalent issue than most of us realize. Sarah Trosty Walsh, Program Director of the Domestic Abuse Program at Alpert Jewish Family Services, talks about the issue, signs and red flags, as well as an exciting event featuring Elizabeth Smart. Link to transcript
Episode 388 - February 1, 2021
A very unique show as Scott talks to you directly about the impact of Covid has had on our lives. He addresses everything from the vaccines to isolation to long-term care plans and how those plans may have changed. A show that will make you think and address the answers to some very important questions. Link to transcript
Episode 387 - January 25, 2021
Desirae Mearns helps explain what this new open enrollment period allows and how you can take advantage of this opportunity. A most important and information show that may help you improve your Medicare options and keep you well. Link to transcript
Episode 386 - January 18, 2021
Parkinson's disease can have so many implications for those living with the disease. Two of the most impactful things that help are music and movement. To learn more about how, tune in see how you can attend a free symposium. Great information for those who are dealing with PD or know someone who is. Link to transcript
Episode 385 - January 11, 2021
Long term care insurance can be very confusing. When should I activate my policy? Am I sick enough to use my policy? Attorney Steven Dunn answers these questions and so many more in this most important show. Link to transcript.
Episode 384 - January 4, 2021
Dr. Ariel Rodriguez, Bariatric Surgeon at Delray Medical Center, discusses the procedure you may not fully understand. A fascinating look at the pros and cons of this life altering surgery. Link to transcript.
Episode 383 - December 14, 2020
Attorney Joe Karp of the Karp Law firm talks about how Covid has impacted our elder law planning and what we've learned. From tax law changes to beneficiary designations and Healthcare Surrogates to Powers of Attorney, this is a show you need to hear. Link to transcript.
Episode 382 - December 7, 2020
Neurologist Dr. Dennys Reyes of Delray Medical Center talks about brain aneurysms. A fascinating show about a condition most of us know little about. Link to transcript.
Episode 381 - November 30, 2020
Dr. Daniel Caruso, noted urologist here in Jupiter, Florida, talks about men's prostate health. From diagnosis to treatment he discusses the latest technology and outcomes for prostate cancer and other men's health issues. A most informative show. Link to transcript for Episode 381
Episode 380 - November 16, 2020
Cardio thoracic surgeon Dr. Nishant Patel talks about the latest Impella device technology he is pioneering here in Palm Beach as well as the latest in bypass surgery. He also talks about the differences between cardiac disciplines that many of us find confusing at times. A simply wonderful guest and a show you don't want to miss. Link to transcript for Episode 380
Episode 379 - November 2, 2020
Shoes can make all the difference in the world when it comes to your quality of life. Diabetes, hip replacements, knee replacements, lower back problems, and more can impact how you feel and the proper footwear can help you overcome those problems. The folks from Nobile Shores discuss how they can guide you to solutions you may never have thought of during this most enjoyable show. Link to transcript.
Episode 378 - October 26, 2020
Desirae Mearns, SHINE Director of the Area Agency on Aging, talks about Medicare open enrollment. The most important time of year for Medicare beneficiaries explained in plain language with some great tips too. Always a very informative and important show. Link to transcript.
Episode 377 - October 19, 2020
Beth and Steve Elgort, the founders of Mind, Music, Movement, a non-profit foundation focused on gathering wonderful resources for people with Parkinson's disease, talk about the foundation's work and the disease itself. A wonderful show that will make you smile and want to learn more. Link to transcript.
Episode 376 - October 12, 2020
Dr. Mark Goldstein, Founder and CEO of JEM Research Institute, talks about Parkinson's disease and clinical trials. A very information show about a subject we could all learn more about.
Episode 375 - October 5, 2020
Dr. Brian Coleman, Foot and Ankle Orthopedic Surgeon, talks about ankle replacements, stem cell treatments, PRP and the unique differences between Podiatrists and Foot and Ankle surgeons. A fascinating and incredibly informative show.
Episode 374 - September 28, 2020
Lisa Fossett of Saylor Physical Therapy discusses everything you want to know about physical therapy and how it plays a critical role in the continuum of care.
Episode 373 - September 21, 2020
Can you or should you sell or buy a home during a pandemic? Scott talks about that and everything real estate with Milly Taylor of Keyes Realty. A very informative and interesting show.
Episode 369 - September 14, 2020
Steve Delach, Business Development Manager of Cresthaven Senior Living, talks about Assisted Living in a COVID environment. The challenges are enormous and we often can't appreciate what being in an assisted living community during these times entails. Great and informative show!
Episode 368 - August 10, 2020
Dr. Antonio Beltran, Urologist at Good Samaritan Hospital, talks about incontinence, kidney stones, prostate cancer and so much more. A very informative show covering a wide variety of important issues.
Episode 367 - August 3, 2020
Laura Dwelley, RN and Dr. Karen Gilbert from Alzheimer's Community Care talk about how to help families cope with Covid and Alzheimer's disease during these difficult times. The challenges are great, but there are many things we can do to navigate these challenging waters. Tune in and see how we can all help those in need of support.
Episode 366 - July 27, 2020
An incredibly fun show as our very own Claudine Louis and Tori Watts, schedulers extraordinaire, join Scott live in the studio to talk about the science behind matching caregivers and caregivers.
If you or someone you know thinks they may need help caring for a loved one, this show will answer many of your questions about how we ensure you have the best caregiving experience.
Episode 365 - July 20, 2020
Patrick Franklin, President and CEO of the Urban League of Palm Beach County, speaks with Scott about what the league does, how COVID impacts his constituency, systemic racism, BLM and much more. This is a show you don't want to miss.
Episode 364 - July 13, 2020
Filling in for Scott who is away celebrating his 50th wedding anniversary is special guest host, Dan Lagani, Co-Founder and CEO of Silver Solutions. Dan addresses two critical issues facing our seniors today ... making sure their environment is safe when mobility becomes compromised and then how to stay mentally healthy and happy in this very isolating time. A dynamic show and one you don't want to miss.
Episode 363 - July 6, 2020
Dr. David Padden, Orthopedic Surgeon who specializes in robotic hip and knee surgery, tells us when you may need surgery and when you may not and what procedure is right for you. We also talk about arthritis, what it is, and how it affects our lives.
Episode 362 - June 29, 2020
Dr. Cory Harow, Chief Medical Officer of the emergency department at West Boca Medical Center, talks about COVID and its impact on emergency care. A very interesting and timely show you need to hear.
Episode 361 - June 22, 2020
Dr. Chadwick Hampton joins Scott to talk about orthopedic surgery in the era of COVID-19 and knee and hip replacement surgery. A fast-moving and fascinating show that will answer your many questions about surgery during this unique time.
Episode 360 - June 15, 2020
Shawn Taker and Mary Kerman of the Egoscue Method tell us about this lifestyle technique that can improve the quality of your life. A fascinating new look at health and wellness and how movement is a critical component for improving your health.
Episode 359 - June 8, 2020
Dr. Karen Gilbert from Alzheimer's Community Care talks about how ACC was able to stay open throughout the Covid-19 crisis and discusses the special considerations required when someone with a cognitive impairment goes to the hospital. A most important and informative show.
Episode 358 - June 1, 2020
Elder law attorney and thought-leader Mitch Kitroser discusses what we've learned over the past few months and how those lessons can help us in the future when it comes to takin care of our seniors.
Episode 357 - May 25, 2020
Dan Lagani and Laura Oliveras from Senior Solutions discuss how to keep our homes livable and, most importantly, safe and what to do when it's time to move and downsize. Valuable information for every senior whether you're planning to stay in your home or move.
Episode 356 - March 9, 2020
Constitutional scholar David Hershberg talks about whether we should eliminate the electoral college in favor of using the popular vote to elect our Presidents. In a fascinating view of this most challenging question, we look at the proposal to amend the constitution from all sides.
Episode 355 - March 2, 2020
In a most important episode of "OMG, I'm Getting Older and So Is My Mom," Desirae Mearns, Director of SHINE, helps simplify your Medicare choices and helps educate us on the differences between traditional Medicare and Advantage plans. She also explains why this year, for the first time in a very long time, if you made a selection during open enrollment you regret, you may be able to change it. Fascinating information and so very important.
Episode 354 - February 24, 2020
Dr. Karen Gilbert from Alzheimer's Community Care talks about the critical need for early detection and screening for Alzheimer's and related dementias. So many people are afraid to be screened and with so many reversible dementias, early and proper primary diagnosis can be so important. A must listen to show.
Episode 353 - February 17, 2020
Dr. Connie Porcaro of Florida Atlantic University who specializes in speech language pathology helps us understand how important swallowing is to our quality of life. It's a fascinating show worthy of your time.
Episode 352 - February 10, 2020
Eric Borden, a two-and-a-half year pancreatic cancer survivor, tells his story of survival and describes the incredible progress being made with this dreaded diagnosis. In a real life tale of survival and hope, Eric provides us with the latest information everyone affected by this disease should know. A powerful show you shouldn't miss.
Episode 351 - February 3, 2020
Dan Lagani and Laura Olivares, the founders of Silver Solutions, talk about strategies to age in place. Most of us want to remain in our homes as long as we can and with some simple modifications, we likely can. Dan and Laura give great advice and provide lots to think about as we face these difficult decisions.
Episode 353 - January 27, 2020
Wealth Advisor Joe Robinson of Bernstein Wealth Management discusses money in general and how you should think about your investments. This interview addresses a wealth of ideas about how to think about money for you and your heirs.
Episode 352 - January 20, 2020
A fun and lively show as Scott talks with two good old boys from Brooklyn who relive their days of sports - basketball in particular. Neal Aronin and Marty Groveman join in the fun and talk about Marty's book and their mutual love of basketball and education.
Episode 351 - December 23, 2019
A most interesting and important show with Board Certified Elder Attorney Joseph Karp. Lots of covered ground on critically important information we all need to know. So much packed into this show that you must listen when you can.
Episode 350 - December 16, 2019
Mark Trepanier from Abbey Delray talks about senior living options we can consider and the brand new $40 million renovation his community has just completed. If you want to know more about how a CCRC might be for you, don't miss this show.
Episode 349 - December 9, 2019
The Civic Life Project and the 2020 film documentary challenge engages young people in our democratic process by using the medium of film. It's a fascinating and important effort and Scott's guests who co-founded the project and support its efforts provided a most interesting conversation. Please listen to this unique show unlike any we've done before.
Episode 348 - December 2, 2019
Dr. Connie Porcaro and Kelly Steele from Florida Atlantic University talk about helping those with Parkinson's Disease recover their voice. As is often the case, people with Parkinson's can lose the ability to speak out and speak loud and their program changes that for so many.
Episode 347 - November 25, 2019
CD the DJ talks music, parties, and having fun. Being a DJ involves much more than we realize and Charlie D makes us smile, laugh and remember the music that impacted our lives. A uniquely different show for Scott but so much fun.
Episode 346 - November 18, 2019
Music Professor Dick Lowenthal talks Big Band music and experiences from his more than 50 years teaching, playing and conducting all over the world. From Ella Fitzgerald to Cher to Count Basie to Sinatra. A truly fun journey and reminiscence through music history.
Episode 345 - November 11, 2019
Sometimes we are so afraid of technology and how fast it moves we fail to take advantage of all it can offer. Tiffany DiPanni helps us understand how helpful all this technology can be and how best to use it. A fun and informative show you will thoroughly enjoy.
Episode 344 - November 4, 2019
Kathy Sreenan of South East Honor Flight and Vietnam Veteran Skip Tyler discuss what Honor Flight is and why it is so important. A moving tribute from Skip will bring you to tears as you hear about what his experience meant to him. A must listen to show.
Episode 343 - October 28, 2019
Board Certified Neurologist Dr. James Galvin of Florida Atlantic University College of Medicine talks about Alzheimer's disease and related dementias and how you can prevent the disease or slow its progression. He also talks about the future of medications that may be able to help arrest the progress of Alzheimer's. A truly fascinating show.
Episode 342 - October 21, 2019
Dr. Jon Rosensweig, Radiologist at West Boca Diagnostic Center, talks about early detection of breast cancer and the latest in diagnostic techniques for Breast Cancer Awareness Month. A most important and information show you shouldn't miss.
Dr. Roger Landry, author of "Live Long and Die Short" is joined by Rachel Blumberg, Executive Director of Abbey Delray South, to talk about about Masterpiece Living. This program explains how to find purpose as we age and add quality to our lives. A most interesting show that will demonstrate to you the importance of optimism in your quest to live your best life possible.
Episode 340 - September 30, 2019
Open enrollment is that time of year where if you're not careful you can make a terrible mistake with your Medicare coverage decisions. There is tremendous confusion and misunderstanding about all the options that you face at this most important time. Desirae Mearns, the Program Director for SHINE, is tonight's guest and she can help you navigate these open enrollment waters safely. A must listen to show if you're enrolled in Medicare or an advantage plan
Episode 339 - September 23, 2019
Kate Kramer, Project Director of the Elder Rights Section of the Area Agency on Aging talks about elder fraud, abuse and exploitation. From old scams to new, Kate talks about how to protect yourself from becoming a victim and what to do if you have. A truly helpful show you shouldn't miss.
Episode 338 - September 16, 2019
Dr. Suzanne Fuchs of LUXE Podiatry talks about all things feet. from plantar fasciitis to broken toes, from amniotic injections to holistic treatments. An incredibly informative look at taking care of the foundation of our stability.
Episode 337 - September 9, 2019
Dr. George Gurdock, Medical Director of Emergency Services of Good Samaritan Hospital talks about their new free standing ER and so much more. A great guest with great insight about improving your quality of life when confronted with an unexpected emergency.
Attorney Steven Dunn explains Long Term Care Insurance benefits in ways you may never have though of before in this most informative show. How to access your policy and when, along with unique ways to pay for it plus so much more. THis show is a must for anyone with LTC insurance.
Parkinson's diseae is a movement disorder. Occupational therapist Nicole Reynolds from Saylor Physical Therapy discusses the LSVT program uniquely designed to help restore normal movement to those living with the disease. If you know someone living with PD, this show is worth listening to.
Great show about the wonderful work of the Palm Beach County Division of Consumer Affairs. Rob Shelt and Jeff Eidelberg explain some of the many things they do to protect you and I which is much more than we ever knew.
You likely don't know much about a trauma center until you need one, but when you do, there is none better than St. Mary's Level 1 Trauma Center here in Palm Beach. Dr. Robert Borrego, Medical Director, talks about everything from mass casualty event preparation to fall prevention.
Dr. Chadwick Hampton, Board Certified and Fellowship Trained Orthopedic Surgeon, talks about the latest technology in both partial and total knee replacement. The Navio robotic device is revolutionizing knee replacement and the only place you can get it is with Dr. Hampton at Palm Beach Gardens Medical Center. A fascinating show on the latest treatment option for those considering knee surgery.
Rachel Blumberg, Executive Director of Abbey Delray South, talks about Masterpiece Living and how that concept helps her residents thrive. As senior living changes, communities must adapt to stay relevant and effective and Rachel describes how she and her community are changing with the times.
>Dr. Tim Williams, Medical Director of the South Florida Proton Therapy Institute, describes how his new Cyclotron machine can help improve your cancer outcome. As a leading radiation oncologist, he describes exactly how this new state-of-the-art technology will save lives and guarantee better outcomes for you or someone you know battling cancer.
Jodi Glacer of Senior Care Authority talks about how to find the right community for you or your parents. Independent or Assisted Living communities are opening on every corner so how do you decide which one is best for you? Tune in and find out.
Medical Marijuana, CBD, Cannabis, THC are all hot button words these days as the debate rages between its legality and effectiveness. Dr. Rick Liogier-Weyback helps explain the differences and clear up the confusion. Tune in for a very informative discussion.
Dr. Karen Gilbert from Alzheimer's Community Care discusses their upcoming educational conference and some truly revolutionary new progess in identifying people with Alzheimer's disease. A show you don't want to miss.
Scott talks about Adverse Childhood Experience with Kerry Jamieson of The Center for Child Counseling. A most powerful and moving show discussing the impact of adverse experiences on children, how they affect those children and why we should care.
Knyvett Lee, CEO and Founder of MonarchCare, joins Scott to talk about Care Management, Guardianship and Daily Money Management. Throughout her 30 years of experience, she presents a lot of useful information in an easy to understand and engaging fashion. Enjoy!
Cardiologist Dr. Khalid Shiekh talks about heart health unlike any cardiologist you've heard before. Skip breakfast? Well, maybe. Listen in and hear about that as well as the differences in heart disease between men and women and how you can live to be 100.
>In Scott's first show back after his world cruise, he discusses his trip, the lessons learned and how this unbelievable journey will impact his work and the show moving forward. Get ready for an incredible adventure!
Dr. Diego Rubinowicz, a noted urologist spearheading state of the art treatments for prostate cancer, is live in the studio with Scott. This is a wonderfully informative show that can help you or someone you know navigate prostate cancer with minimal side effects and even more importantantly, minimal hospital stays.
Episode 321 - December 17, 2018
Boomerang retirees. A group of people who moved 10, 15, 20 years ago and have decided to relocate back to their original home location. Often times, it's not that easy. Scott has a fascinating discussion with attorney Darren Mills who informs us of all the things one needs to consider if making this move.>
Episode 320 - December 10, 2018
Mitchell Kitroser of Kitroser Law Associates discusses exploitation, pooled trusts, special needs trusts, along with explaining what happens when your son or daughter reaches maturity. A knowledgeable resource sharing important information that you need to know.
Episode 319 - November 12, 2018
Dr. Suzanne Fuchs of LuxePodiatry joins Scott to talk about your aching feet. So much valuable information and useful hints to help you take care of those feet and ankles.
Episode 318 - November 5, 2018
Dr. Tom Minas, Director of Cartilage Repair from the Paley Institute, talks about his revolutionary treatment of cartilage damage and customized knee replacement technology. After 30 years at Harvard Medical School, Dr. Minas brings state of the art medicine to our area. A show you shouldn't miss.
Episode 317 - October 29, 2018
Hearing loss can impact our lives in so many ways. Dr. Michael MacKinnon, Audiologist, and Beth Wagmeister, Director of Deaf Services from Goodwill Industries talk about hearing loss, symptoms, treatment and an exciting free program from Goodwill.
Episode 316 - October 22, 2018
A very special show as Congressional District 18 candidate Lauren Baer, who is in a most competitive and important congressional race challenging Brian Mast, shares where she stands on critically important issues facing boomers and their aging parents. Joining Lauren in the studio is Tina Polsky, the State Representative-elect in District 81 which includes West Boca Raton, Delray Beach and Boynton Beach out to Pahokee and Belle Glade.
Whether your loved one needs assistance only a few hours a week or around-the-clock, our team is happy to help! Call (772) 584-2416 to learn more about the transition care services offered through ComForCare Home Care (Treasure Coast, FL).