The importance of human connection and engagement in life can be overlooked in the home care industry. That is why we focus on hiring unique, outstanding individuals who feel fulfilled when supporting older adults. The result is that you or your loved one will receive the necessary support to live safely and independently, while also experiencing a better quality of life.
Home Care Setting
Short-term support (days or weeks)
Long-term support (months or years)
Hourly or live-in caregivers
Hospital Setting
Bedside companion services
Transitioning home from the hospital
Meaningful Activities
The first responsibility of our caregivers is to engage our clients in a meaningful way. Both the latest research findings, as well as our common sense, point to the health benefits of social connections and meaningful activities for older adults. Mood, cognitive ability and overall well-being can be substantially improved in people who have purposeful and joyful experiences.Incorporating meaningful activities into daily routines leads to more enjoyable days and can often lead clients to become more accepting of other forms of support, such as housekeeping duties.Some of the effects of engaging in meaningful activities shown in research studies:
Improved sense of well-being, increased positive emotions and decreased boredom

Reduced perceptions of pain

Reduction in chellenging behaviors associated with Alzheimer's and other forms of demetia
Basic Support
We could all benefit from some help with the everyday tasks that fill much of our lives. For older adults, the need for various types of assistance is likely much greater. Our caregivers and staff can assist with many instrumental activities of daily living, including: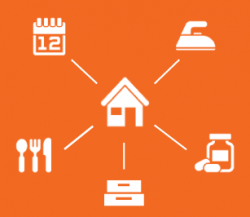 Light housekeeping, laundry and help around the house
Grocery shopping and meal preparation
Home organization
Appointment planning and escorts (medical appointments, recreational activities, etc.)
Medication reminders
Getting Started
We believe encouraging a healthy overall well-being socially, emotionally and mentally is important, and we show that in our personalized approach to each client. We begin every client relationship with a free in-home consultation with one of our care advisors. Getting to know our clients in detail allows us to match the right companion and help coordinate all of the services necessary to live safely and independently. We will also take the time to organize a weekly plan and find activities that will bring purpose and enjoyment to our clients' lives.
Whether your loved one needs assistance only a few hours a week or around-the-clock, our team is happy to help! Call (212) 256-1933 to learn more about the transition care services offered through ComForCare Home Care (NYC).