Tips for Aging In Place from ComForCare in Plymouth, MI
---
Plan for the Future -Now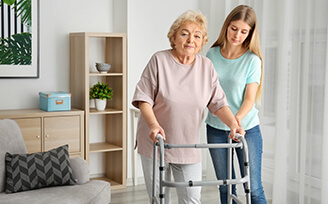 As your parents or other loved ones age, you will start to look ahead and consider ways to help them prepare to live at home as long as possible. Considerations for staying at home may include you and your spouse. Some changes will inevitably take place over the next 10, 20, or 30 years in your vision, strength, balance, coordination, and hearing. Your home may have to be modified to accommodate a wheelchair or other such devices.
---
Now is the time to prepare to "age in place!"
Add extra lamps, and install motion-sensing nightlights
Make sure light switches are near all doors and stairs
Make sure lamps and switches are easily reached from beds
Do not use throw rugs unless they are slip-resistant
Elevate seating or purchase seat assist for toilets and chairs
Install secure handrails and grab bars in showers
Install sit- in showers and tubs
Purchase a bed that is lower, and even automated for comfort
Keep a good supply of batteries and lightbulbs
Keep communication devices in good working order
Make emergency contacts easily accessible, like speed dial
Store things on lower shelves that you use every day
Minimize stairs and if possible, replace stairs with ramps
Eliminate clutter to clear pathways
Ensure smooth sidewalks and driveways
---
Think ahead! Consider a plan for the following:
Grocery delivery services
Personal emergency response systems
Automated medication dispensers
Hearing devices
Cell phones or other ways to stay connected
Meal delivery services
These tips will make your home a safe place to "age in place" and prepare for your best life. At some point in our lives, each of us will need help, and that is most often in our senior years. Family and friends will be there for us, but an in-home care resource like ComForCare can certainly provide help and ease the minds of everyone in the family.
---
Whether your loved one needs assistance only a few hours a week or around-the-clock, our team is happy to help! Call (734) 414-1981 to learn more about the transition care services offered through ComForCare Home Care (Plymouth, MI).