Meet the Owners
---

Ziad and Noor Dally
Parents, Community Focused, Committed to Care
"We take care of our clients like they're our family."
---
Ziad's Story
My home care journey truly began long before I opened a ComForCare. Growing up, volunteering and being involved in my community was a huge part of who I was as a person, and it remains very important to me into my adulthood. In the 20 years I ran a local convenience store, my favorite part about the business was being able to get to know the people in my community and to build those relationships. As the years went on though, I came to realize I wanted to give back more to the community and, if possible, make that the entire point of my business.
So when I started looking into what other businesses I could open once I closed my store, the clear choice for me was home care. Quality in-home care has the potential to make a profound impact on the lives of not just my clients but also their families and friends. From day one, I knew this was the work that was right for me, and I haven't looked back.
---
Noor's Story
Home care, for me, comes back to family. In my own family, I've seen firsthand the worries and questions that arise when it comes time to care for an older loved one, and so when Ziad told me he wanted to open an in-home care business, I knew it was something I had to be a part of. Having grown up with my father owning his own business, it was always a dream of mine to one day grow a business of my own and to have it be a family venture. To have this business be a in-home care business, where it's about caring for and giving back to others, makes that so much more profound. As a mother of three, I can think of no better way to instill the importance of care and community to my children. Life is about helping, and I can teach them that by doing.
For Ziad and me, our business is more than just a business. It's our link to community, to family, and to the service and care we both know is so important to provide. Our clients are like our family, and that's why we will always go above and beyond to make sure they and their families are living their best lives possible.
---
Our ComForCare Pledge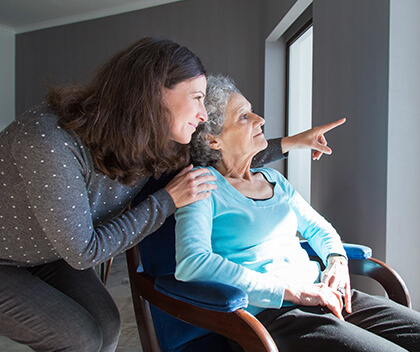 At ComForCare Western Oakland County, our clients are our family, and so the care we provide is always personal, always reliable and always the very best we can give. We are committed to carefully matching each client with their ideal caregiver, and we understand that while the big things in care are important, the little things are just as important as well. Something so small as a meaningful conversation can forge a profound connection that has a deep impact on somebody's life and well-being.
That is why our ComForCare pledge is to always foster these positive connections in the lives of our clients and their families, as we provide reliable, quality in-home care. That way everybody, from our clients to their loved ones to the caregivers we employ, can live their best lives possible.
---
Office Qualifications
DementiaWise®-certified
Transitions of Care
Ziad and Noor's Qualifications
Ziad has 20+ years of experience as a small business owner
Noor has a Bachelor's Degree in Marketing from Wayne State University
---
Whether your loved one needs assistance only a few hours a week or around-the-clock, our team is happy to help! Call (248) 956-7836 to learn more about the transition care services offered through ComForCare Home Care (Novi, MI).