Meet the Team
---
Our family taking care of your family
Owner Cindy Gray has a team of professionals that are like family to her, and many are actually related. Several members of her family have joined the ComForCare Orlando team over the years. Being a caregiver and helping others seems to run in the family!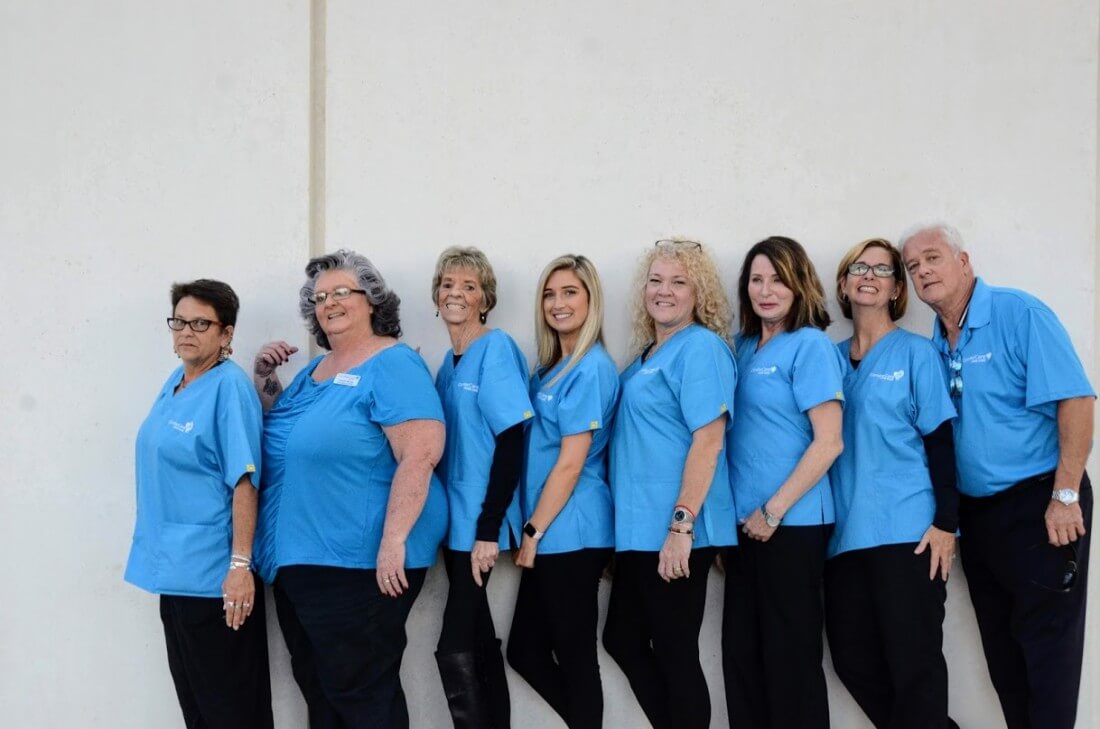 (left to right: Holly, Carole, Marilyn, Brittney, Traci, Cheryl, Cindy, Clem. Not pictured: Rex, Tori, Lane, CJ)
---
Cheryl Fox, RN, Executive Director of Clinical Services
ComForCare Greater Orlando is honored to have Cheryl Fox as our Executive Director of Clinical Services. She has resided in the Central Florida area for her entire life and has over 25 years of experience in the medical field. As a registered nurse, her areas of clinical focus have been in lymphedema management, wound care, diabetes, multiple sclerosis, hormone
management, anti-aging medicine and erectile dysfunction. She has spent time in medical product sales and service, as well as consulting. In addition, Cheryl has an extensive background in providing comprehensive medically related training and product education. Some other areas of Cheryl's expertise include case management, presentation skills, medical research and documentation, patient assessment and intervention.
Cheryl has unparalleled charisma and an ability to connect with people. She is very involved in client assessments, staff supervision and case management, with a 24/7 dedication to our clients. We are thrilled to have her here helping people live their best life possible.
---
Dara Queen, HHA Director of Business Development
Dara joined our team after moving to Central Florida from Salem, Oregon. In Oregon, Dara achieved great success in the home care industry. Her vast experience ranged from office and caregiver management, community relations to Alzheimer's/Dementia Training. Her extensive experience in caring for those with Alzheimer's and related disorders, including the fact that she is a Certified GEMS Trainer, has positioned her to enhance the quality of our DementiaWise program. In addition to all of this, She holds an ALF/RCF Administrator Certificate.
---
Marilyn White, Financial Manager/Recruiter
Marilyn White is Cindy's mother. She is the financial manager and caregiver recruiter She assures all financial matters are handled effectively, for example she takes care of all invoicing, all long term care insurance claims and assures all of our bills are paid on time. When she is not managing finances she is on the phone recruiting. She keeps a steady flow of caregivers coming through out door.
---
Carole McVay, Office Manager
Carole is Cindy's aunt. She started with our company working 2 hours a day, after working 8 hours a day at her full time job (of 35 years) in banking. She finally came onboard as a full time ComForCare Employee in 2021. She has brought such much value to our office. She totally manages all day to day activities in the office. This includes caregiver interviewing and onboarding, training, client onboarding, phone call management, greeting card program, compliance and many other things. Carole is the heart of what we do. She brings so much joy to our team. She keeps a VERY positive work culture alive for not only our internal employees, but all of our great caregivers in the field.
---
Vanessa Prophete, Scheduler
Vanessa joined our team in 2021, relocating here from New York, where she managed over 300 caregivers schedules. She spends her days assuring we are well staffed. Her priority is assuring our employees are happy with their schedule and that she has made great client/caregiver matches. Vanessa work tirelessly at one of the toughest jobs in the industry.
---
Holly Finfgeld, HHA Senior Care Coordinator
Holly is our Senior Care Coordinator and has been providing care to people in their homes for over two decades. She has an unparalleled sense for practicality, safety, and for bestowing an overall sense of well being to clients and caregivers alike. Holly was the original caregiver at CFC Greater Orlando, and it soon became evident that she had a lot more to offer to the
organization. As Senior Care Coordinator, she is now supports caregiver recruiting and caregiver coaching. Holly juggles other tasks, too; managing schedules with our clients, office administrative assistance, and "all other duties as assigned". Holly is our go-to for everything, she is a problem solver extraordinaire. Holly's nickname is "First Responder" – when you have a question or need feedback Holly is on it in minutes!
---
Letsey Perrin, HHA, Ambassador
Letsey brings significant client care experience to our team. In addition to providing care to specific clients, Letsey is responsible for bringing value to ALL of our clients. She makes routine visits to assure we are doing everything possible to help our clients AND caregivers live their best life possible. In addition, Letsey supports our marketing activities and training programs.
---
Clem Gray, IT and "whatever it takes"
Clem is Cindy's husband. He does whatever it takes to support Cindy and the ComForCare Orlando business in every way possible. He does all of the IT work and assures the facilities are in the best condition at all times. He has even been known to help with clients in a pinch. He is an amazing can-do and go-to-guy!
---
Not pictured, but part of the team: Missing from the team photo but also involved are Cindy's and Clem's four kids, following in their parents' footsteps, becoming caregivers and working toward careers in service to others.
Rex Gray and Tori Gray are the twins.
Both both will do anything to help their Mom in the ComForCare business. Tori is currently a Pre Nursing student at UCF and Rex is Pre-Law at Stetson University. Rex received his Home Health Aide certification (HHA) at the age of 15, scoring at the top of his class. Rex and Tori work hard and help in many different ways.
---
Lane Gray, EMT/Firefighter
Lane is going to nursing school in the fall, however he is currently providing anywhere from 36 to 60 hours of care per week for clients. Mom Cindy says that clients beg for Lane to care for them and offer to pay twice the price to get Lane to be their caregiver!
---
Lane Gray, CNA
Lane is currently going to nursing school.Prior to that, he was providing anywhere from 36 to 60 hours of client care per week.. Mom, Cindy says that clients would beg for Lane to care for them and offer to pay twice the price to get Lane to be their caregiver!
---
CJ Gray, Social Media
Another of their sons, CJ is also a contributor. In his spare time, away from his full time career, he helps with social media and any other things he can do for the business.
Our team deserves recognition for our location's credentials:
DementiaWise®-certified office
Participating location for the National Memory Screening Program of the Alzheimer's Association of America
Proud contributor to the Alzheimer's Association
Sponsor of the Multiple Sclerosis Society Walk for the Cure
Member of the Seminole County Regional Chamber of Commerce
HCAF Member, Home Care Association of Florida
Recipient of the "Best of 2019 Longwood" Award for Home Health Care Service
Whether your loved one needs assistance only a few hours a week or around-the-clock, our team is happy to help! Call (407) 406-5902 to learn more about the transition care services offered through ComForCare Home Care (Greater Orlando, FL).